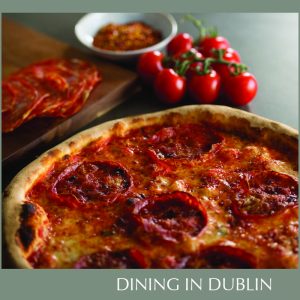 Break from the mundane of everyday COVID life and make dinner a culinary event for all the family
Tiger Wood Fire Pizza launches Pizza Meal Kit using unique SourDough Pizza Base turning you into a top pizza chef
Working from home and social isolation means that people are spending a lot of time at home. Daily life has become one long uneventful period that has challenged the way we live our lives. People are actively looking at ways to break the mundaneness and repetitiveness of everyday COVID life. With restaurants and gasrto pubs closed more and more people are turning to cooking to add some excitement to the evening meal. Tiger Wood Fire Pizza Meal  Kits create a culinary event in the kitchen that can be enjoyed and experienced by all the family.
Tiger Wood Fire Pizza has launched a premium pizza meal kit including unique SourDough Wood Fire pizza bases with Tiger trademark Crust and Wood Fire charring. Tiger Wood Fire Pizza bases are created using an innovative production technique allowing each pizza base to rise at the crust giving a professional stone baked wood fire charred finish to each base. Our unique bases combine with high quality toppings to deliver a superior taste and texture in every bite.
Our Meal Kits include 4 of Tigers unique bases and customers will have a choice of either Vegetarian, or Meat toppings to choose from. Tiger sources the finest ingredients from home grown Irish artisan suppliers and also Italian. Some of Tigers local meat and cheese suppliers to list are Gubbeen, Toonsbridge, FiveMileTown, & Cashel Blue & Liliput Trading Co.
Quality and taste are the top priority at Tiger Wood Fire Pizza and although late in bringing our Pizza Meal Kit to the market we have perfected the most challenging aspect of a home pizza product, the pizza base. Each pizza base is SourDough and made from 4 basic pure ingredients, Flour, Water, Olive Oil and Salt and takes 72 hours to prove each individual dough ball. Once proved for the optimum period of time Tigers unique Wood Fire Oven cook allows a rise at the crust of each pizza and leoparding of the pizza crust. leoparding is the charred blister effect of Wood Fire Cooking and gives each base a deeper taste and texture. This is unique to Tiger Wood Fire Pizza.
Tiger Wood Fire Pizza Meal Kits combine the best pizza base offering in Ireland with the best ingredients from both Ireland and Italy and blend them together with Tiger Wood Fire Pizzas secret tomato sauce. Tiger WFP uses the best vine ripened tomatoes from San Marzano Mount Vesuvius where volcanic ash provides the most fertile soil for growing tomato's and blends with a combination of secret ingredients to balance sweetness and acidity for the perfect pizza sauce.
Meal kits are perfect for those looking for an authentic pizza cooking experience at home and want to share this experience with family, friends and kids. People are now looking for better quality on their plate and a better more authentic taste experience at home. Tiger Wood Fire Pizza brings high quality and home cooking together with ease and has created a truly unique and superior pizza experience.
Pizza Kits include
Meaty
·       4 x Tiger pizza bases, Tiger Secret Tomato Sauce, Fior Di Latte mozzarella, ToonsBridge Mozzarella, Pepperoni, Italian Spicy Salami, Red Onion, Chestnut Mushrooms, Corn from the husk, Chillie Flakes & step by step instructions for the perfect professional pizza
Veggie
·       4 x Tiger pizza bases, Tiger Secret Tomato Sauce, Fior Di Latte mozzarella, ToonsBridge Mozzarella, Chestnut Mushroom, Red Onion, Caramelised Red Onion, Corn from the husk, Chillie Flakes, Step by step instructions for the perfect professional pizza
Each Pizza Meal kit retails at €34.99 and can be ordered at www.tigerwfp.ie
Tadhg Leonard Managing Director of Tiger Wood Fire Pizza says
"I am delighted to finally launch our Pizza Meal kits. COVID 19 has meant that all business has had to search for new and innovative ways to reach and engage customers. At the same time customers are looking at new ways to liven up the home cooking experience. I believe that the Tiger WFP pizza meal kits are a culinary event to be enjoyed by all the family.
We have a team of dedicated career professional pizza chefs with the talent to develop a market leading product. Quality takes time and although we missed the first wave in terms of lockdown meal kits, I believe we have developed the best pizza meal kit offering in Ireland. Meal kits are here to stay and the time we have invested in getting our offering right has been well spent. The proof of the pizza is in the eating and Tiger Pizza Meal Kits are a slice above the rest."
Tiger Wood Fire Pizza is a premium Wood Fire Pizzeria specialising in SourDough pizza. Operating since Oct 2016 Tiger has 2 Dublin location in Rathmines D6 and Deansgrange Co Dublin. Tiger has quickly established itself as a provider of high quality authentic wood fire pizzas. Owner operator Tadhg Leonard had a successful corporate career before following his passion for amazing pizza and opening Tiger Wood Fire Pizza.
@TigerWoodFirePizza