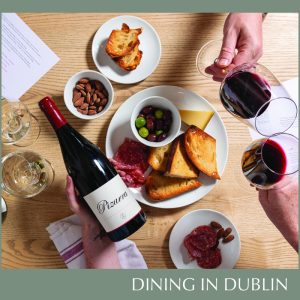 ELY Launches Autumn Tasting Calendar
The past 18 months have seen major changes to how we all do things, some by choice and some created by the situation around us.
One of the changes embraced by ELY is the introduction of online wine tastings. These have been a roaring success. Whilst  Zoom meetings may be viewed negatively, ELY's wine tastings are a fun and informative way to improve your knowledge of wines from anywhere in Ireland.
Be it from the comfort of your couch, on a family staycation or at a friend's house, three full bottles of wine supplied with each tasting means that there is plenty to go around! ELY virtual wine tastings also make for an engaging corporate event with your team.
Spanish wine week in ELY starts on the 4th of October and will be a vibrant run throughout the week featuring some really beautiful Spanish wines.
"Whether it was us reconnecting with our customers, or work colleagues and friends reconnecting with each other, the ELY online tastings have been a fun, educational and entertaining way of having a social gathering while being apart," says Michelle Robson of ELY.
"We've enjoyed them so much that we are going to continue to run online wine tastings into autumn, winter and beyond. So, if you're all working apart but feel like a get-together, or are missing family and friends in different parts of the country, we can arrange a tasting and deliver wines all over Ireland," Michelle adds.
You can choose from their popular themes, such as Up-and- Coming Varieties, or Lesser-known Spanish, featuring some of the exclusive Riberia Sacra and Sierra de Gredos wines sourced directly from the vineyards, or ask them directly about creating a theme of your own for private and corporate tastings.
 Irish Charcuterie, Farmhouse cheese and their famous home-made chutney can be included to complement wine choices.
ELY would love to hear from you, pop them an email or give them a call. They will be delighted to suggest some options and ideas for your next event or gathering with friends.
Spanish wine week Zoom tastings 
A fresh look at old favourites €100  
Tuesday 5th October 2021 @ 7pm
Three of Spain's best-known wines- Cava, Albarino and Rioja – but not as you may know them!  Featuring three of the most dynamic and exciting producers in each region, this is a fresh look at some of the very best sparkling, white and red wines of Spain.
Alta Alella Mirgin Rosé Riserva Cava, Alella 2018
Zarate Tras da Vina Albarino, Val do Salnes, Rias Baixas 2019
Tobia Selection de Autor Rioja, 2018
Spain – the cutting edge.  €110
Friday 8th October 2021 @ 7pm
Three outstanding winemakers on the cutting edge of the Spanish wine scene, all producing sensational wines from indigenous varieties using biodynamic, minimum intervention and low sulphur wine making. This is where it's really happening…
Celler de les Aus 'Tallarol' Pansa Blanc 2019
Marañones 'Pies Descalzos' Albillo Real, Sierra de Gredos 2019
Algueira 'Carravel' Mencia, Ribeira Sacra 2016
Wine tasting prices include 3 full bottles of wine delivered to your door, plus live online tasting.
Instagram Live tasting with Alta Alella 
Wednesday 6th October @ 7pm. 
Alta Alella is a family-run winery established in 1991 on the 19th century Can Genís estate in Alella, just 15 minutes north of Barcelona.  The farming and wine-making have always been organic, and increasingly biodynamic, to best respect and preserve the native ecosystem. They have restored 60yr old vineyards and planted the traditional varieties of Pansa Blanca and Mataró, and they have achieved all this without forgoing their commitment to quality and uniqueness, as certified by the fact that one of their parcels of land has been honoured with the highest category of the cava sector: "Paraje Calificado".
Pick up a bottle (or two) from the superb range of Alta Alella Cavas from ELY's store or website, and join them for a live chat and tasting with Laura, wine expert and Ian Brosnan, ELY's Director of Wines, as they taste through the wines, and discuss the past, present and future of Spain's greatest sparkling wines.
Ely Wine Bar – ELY Place, Dublin 2
For the week that's in it, ELY will be pouring tasting flights of some of their favourite Spanish wines, featuring unusual varieties, styles and exclusive wines. Keep an eye on their social media for more details.
Ely Wine Store – Maynooth, Co. Kildare
Special offers, promotions and tastings of some of our favourite Spanish producers and wines, from Cava to Sherry and everything in between. Keep an eye on ELY Winebars and ELY at Home's social media for more details. Facebook ELY Winebars Facebook ELY At Home 
For more information on ELY's fantastic online Wine Tastings, please contact Lucy@artisyn.ie or call 087 1234 245.