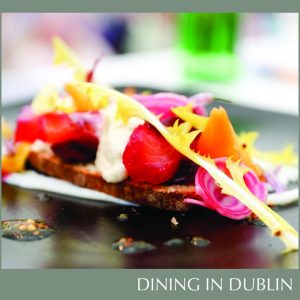 Restaurants Interpret The 'Food Lover's Playground' Theme With Enchanting Summer Dishes
Taste of Dublin 2018, inspired by NEFF (14-17 June) might have a fun and lighthearted theme this year – the 'Food Lover's Playground' – but the festival's restaurants are taking their menu interpretations very seriously with a host of really delicious and artistic takes on the playground theme.
Returning to the beautiful, verdant Iveagh Gardens, it's the food, drinks, entertainment and atmosphere that makes Taste of Dublin such a popular event for people from all over Ireland.
Quirky Playground Menus
The chefs have been busy over the last few months creating vibrant twists on Taste of Dublin's 'Food Lover's Playground' theme – including Suesey Street's: 'Suesey Cornetto' – organic smoked salmon mousse, thyme cone, beetroot cured salmon and pickled beetroot, as well as an enticing and mysterious 'Pic 'n' Mix dessert.
There's an entirely pink menu from Jaipur in honour of the 'Pink City' in homage to the Indian women's rights activists who have made big changes.
Then there's King Sitric's gunpowder gin and tonic with grapefruit oysters. Banyi Sushi will serve Dragon Uramaki – deep fried breaded jumbo prawns, cucumber, avocado, capelin roe and wasabi mayo.
Pickle will bring free range goat from Roscommon in the form of Rajasthani Laal Maas with chur chur tawa paratha: traditional goat curry with reshampatti chilli, yoghurt and onion sauce.
Glover's Alley will also be a Daily Special restaurant on Sunday the 17th with offerings such as aged beef tartare, button mushroom, hazelnut, chive.
The Exchequer's Beetroot and Chocolate Cones: beetroot semifreddo, chocolate mousse and ginger granola is one of the many fun-inspired desserts at the four-day festival.
New Vegan Cuisine
The Daily Special feature at Taste of Dublin gives visitors a chance to enjoy signature dishes from top restaurants and sees a different restaurant come each day. This year, for the first time Veginity will appear with a splendid Vegan affair that includes dishes like Tostones: green plantain with charred corn-roasted pepper salsa, avocado and lime.
Candice's Magic
The Great British Bake Off's Candice Brown is delighted to collaborate with Paul Cartwright – head chef of Roly's Bistro – to create some specially designed desserts, including everyone's summer favourite Banoffee Pie; inviting attendees to come and try what promises to be a match made in sweetness heaven. The feature will be available for Saturday and Sunday (15th and 16th June).
Outdoor Cooking
There is nothing more summery and mood-enhancing than outdoor cooking on a charcoal barbecue. The Big Green Egg Barbecue Outdoor Cooking Area will show a higher level of outdoor cooking with dishes like: Slow cooked brisket of Lambay beef, bbq beetroot and potato chive, summer chopped salad, charred horseradish dressing cooked on the stylish ceramic egg-shaped barbecue, where masterclasses in barbecuing will also take place.
Wine Pairings
Honouring the summer outdoor festival adventure that is Taste of Dublin, O'Briens Wines have focused on a Mediterranean wine theme and have dedicated the selection to our iconic South of France winery Gérard Bertrand. O'Briens Master of Wine, Lynne Coyle has matched each restaurant dish with a chic Gérard Bertrand wine to complement the flavours, textures and nuances of the dish.
Taste of Dublin returns to the Iveagh Gardens, Dublin 2 from the 14th to the 17th of June and includes an incredible line-up on the biggest demo stage ever built at Taste of Dublin and this state-of-the-art area is where you will see a very special line-up of celebrity chefs, with Hugh Fearnley-Whittingstall of River Cottage, Candice Brown – of the Great British Bake Off, Rachel Allen of Ballymaloe, Robin Gill – of The Dairy and Masterchef judge, Adrian Martin – Food Writer and TV chef, Executive Chef Anna Haugh and Aoife Noonan of Glovers Alley.
The chefs will showcase their amazing skills and chat through their recipes and tips at the new Neff Taste Kitchen hosted by Marcus O'Laoire. The line-up also includes Ed Cooney of the Merrion Hotel, Edward Hayden – TV chef, Kevin Dundon of Dunbrody House, Rory O'Connell of Ballymaloe, Sharon Hearne-Smith – Food Stylist and Cookbook Author and Sunil Ghai – Head Chef of Pickle, among many others.
To get even more of a flavour of everything on offer at this year's Taste of Dublin and to purchase tickets on sale from €15 please go to www.tasteofdublin.ie