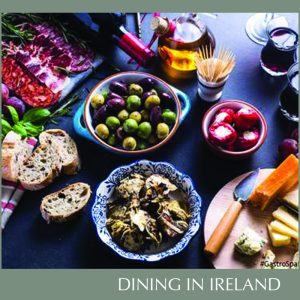 Next 24th September, the Instituto Cervantes in Dublin invites you join a tasty journey through the "Spanish Food in the 21st Century: An introduction" workshop. This is the first session of a series taking place from the 24th September to the 13th November. In this overview of modern Spanish food, experienced instructor and Chef Blanca Valencia will explore the evolution of food and cuisine in the Iberian Peninsula, explain food shopping trends and the restaurant scene among other topics. Get ready to delve into regional differences and discover why the real national dishes of Spain revolve around chickpeas and not tapas and paella.
Have you ever wondered why Spanish people eat so late? This workshop will bring you the answer, reveal why they love entertainment outdoors (it is not only about the weather!) and why the city of San Sebastian in the Basque Country has more Michelin stars per capita than any other place in the world except Kyoto, among other curiosities.
There is no better way to understand and appreciate Spanish wine than tasting it. Hence why, the participants will have the chance to enjoy pairings with Rías Baixas and Rioja wines combined with some nibbles at the end of each session. Book your place now and get ready to immerse in Spain's delightful cuisine!
Blanca Valencia was born in Spain and raised in Latin America. She has a Grand Diplome from Le Cordon Bleu (London). Blanca's experience includes Books for Cooks (London), El Bulli Hotel (Seville), El Alambique cooking school (Madrid) and has worked with iconic Spanish food brands through her work for a specialty food importer and the Spanish Commercial Office in Dublin. Her classes combine cooking, history, economy and pop culture. In Dublin she teaches at Triggerfish Cookshop and is a private chef and instructor.
Information:
Dates: 24/09/2019 (Tuesday) from 18:30 to 20:00.
Venue: Instituto Cervantes (Dublín) – Auditorium. Lincoln House, Lincoln Place, D2.
Comments: Booking in advance essential. Limited places available. Fee: €20 (90 minutes). Book in bookings.dublin@cervantes.es or on-line following the link: https://clicdublin.cervantes.es/es/004-ep-c-01-e3
Website: https://cultura.cervantes.es/dublin/en/Cocina-espa%C3%B1ola-del-SXXI:-Introducci%C3%B3n/128167