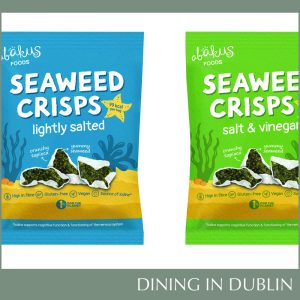 London-based healthy snacks company Abakus Foods introduces Seaweed Crisps with a real crunch!
The scrumptious Seaweed Crisps are made of seaweed harvested from the deep blue seas of South Korea, and coated with a thin layer of crunchy tapioca to create the crunchiest seaweed snack. Seasoned with three tantalising flavours – Lightly Salted, Salt & Vinegar, and Cheese Flavour – these yummy crisps are made without any nasties, and are gluten-free, vegan, and only contain about 100 calories per bag.
Harnessing the power of natural foods, the Seaweed Crisps combine nutritious seaweed with wholesome tapioca to offer a snack with health benefits. Seaweed is known for its vitamin and mineral content, and is a source of iodine which helps support cognitive function and functioning of the nervous system. Tapioca, extracted from the roots of the cassava plant, is a "resistant starch" which feeds the friendly gut-bacteria to the gut, thereby reducing inflammation and increasing fullness.
You can enjoy this guilt-free snack as part of your lunch, as an afternoon pick-me-up, in lunch boxes, to take on travels, and it can be even enjoyed sprinkled on salads and soups to add flavour. Being part of the 1% For The Planet Program means that 1% of sales from this range goes towards charities in support of environmental causes.
Helen Wang, Abakus Foods' Founder and Director said: "We created this range out of our love for the nutritious seaweed. Feedback has been amazing and people keep coming back for more. Being a natural foods brand, we embrace the wholesome, delicious, and nutritious foods that nature provides us with. And we are honoured to be collaborating with "1% For The Planet Program" to give back to the planet and donate 1% of sales to environmental causes. We are super excited to be finally sharing them with you".