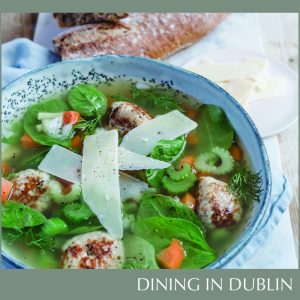 SADIE'S KITCHEN BONE BROTH
AS SEEN ON DRAGONS' DEN
RRP€4.50 (350ml pouch)
100% Irish  100% Natural 100% Healthy 100% Delicious
What better way to say "I love the bones of you" than with our delicious and beautifully delicate Italian Wedding Soup.
The term "wedding soup" comes from the Italian language phrase "minestra maritata ("married soup")," which is a reference to the flavour produced by the combination/"marriage" of greens and the meat.
A firm favourite in the USA, this colourful and filling bone broth-based bowl of goodness, will impress even the most skeptical romantics, leaving you with enough room for dessert. Plus it's a one pot wonder meaning zero clean up, what's not to love!
Sadie's Kitchen Italian Wedding Soup Recipe
Ingredients:
3/4 pound ground chicken
1/2 pound of sausage, casings removed
200g cup fresh white bread crumbs
2 teaspoons minced garlic (2 cloves)
3 tablespoons chopped fresh parsley leaves
60g freshly grated Pecorino Romano
60g freshly grated Parmesan, plus extra for serving
3 tablespoons milk
1 extra-large egg, lightly beaten
Sea salt and freshly ground black pepper
For the soup:
2 tablespoons good olive oil
100g minced yellow onion
100g diced carrots (3 carrots), cut into 1/4 inch pieces
75g cup diced celery (2 stalks), cut into 1/4 inch pieces
3 packs Sadie's Kitchen Comforting Chicken Bone Broth
250ml cup dry white wine
100g small pasta e.g. macaroni
40g minced fresh dill
12 ounces baby spinach, washed and trimmed
Method:
Preheat the oven to 180c fan
For the meatballs, place the ground chicken, sausage, bread crumbs, garlic, parsley, Pecorino, Parmesan, milk, egg, 1 teaspoon salt, and 1/2 teaspoon pepper in a bowl and combine gently with a fork. With a teaspoon, drop 1 to 1 1/4-inch meatballs onto a sheet pan lined with parchment paper. (You should have about 40 meatballs. They don't have to be perfectly round.) Bake for 30 minutes, until cooked through and lightly browned. Set aside.
In the meantime, for the soup, heat the olive oil over medium-low heat in a large heavy-bottomed soup pot. Add the onion, carrots, and celery and sauté until softened, 5 to 6 minutes, stirring occasionally. Add the bone broth and wine and bring to a boil. Add the pasta to the simmering broth and cook for 6 to 8 minutes, until the pasta is tender. Add the fresh dill and then the meatballs to the soup and simmer for 1 minute. Taste for salt and pepper. Stir in the fresh spinach and cook for 1 minute, until the spinach is just wilted. Ladle into soup bowls and sprinkle each serving with extra grated Parmesan.
****
Our bone broths are jam-packed with naturally occurring protein, meaning not only are they delicious, but they are also incredibly good for you. They contain zero salt, sugar, wheat dairy or gluten and are suitable for the Paleo, Ketogenic and GAPs diets. That's convenience without compromise.
Delicious bone broth can easily be incorporated into many meals, increasing both flavour and nutritional value. Here's just some of the ways you can use Sadie's Kitchen:
"           A warming nutritious, restorative drink
"           Replacement for stock in soups, sauces and stews
"           Splash into a stir-fry or sautéed vegetable
"           Liquid required for your quinoa, rice or bulgar
"           Add to reductions or gravy
You can find a whole host of recommended recipes over at www.sadieskitchen.ie