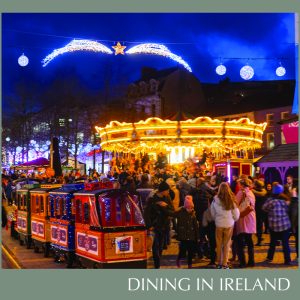 Ireland's oldest City has a rich tradition of markets, Waterford traces its winter gatherings back to medieval times when end-of-year markets glowed in the face of inclement weather.
Today, the tradition is maintained at the Winterval Festival as sitting prettily along the spine of the city's Cultural Quarter are a series of decorated wooden cabins filled with festive treats and eats; spanning the Viking city from George's Street to O'Connell Street and all in the midst of the Winterval family fun attractions.
The Winterval Market chalets feature handmade gifts from Breakwater Gift Shop, Away with Nature, personalised gifts, wooden toys, bespoke tree decorations, handmade knits, Pom-pom Alpaca Hats, Elements of Earth Crystal jewellery and more plus there is some delicious food on offer from Bad Boys BBQ, Tastyland Noodle, Sugar Mama plus there even a Hog Roast and more.
In addition, the region's crafters have come together for the 38th annual  Waterford Craft showcase and fair at Garter Lane Gallery. In all, the events encompass a variety of over 70 food, drinks crafts and gift producers and creators in Waterford this Christmas.
A pop-up Polish Christmas is also on offer at the Port of Waterford building on George's Street, where Waterford's vibrant community of Poles bring their traditions, food and dishes like pierogi (dumplings) and clear beetroot soup to life plus there are gingerbread man workshops, too.
Billed as Ireland's largest Christmas festival, Winterval in Waterford offers a trail of 38 events with 25 on offer free of charge plus there are special one-off events to celebrate the festival's 10th birthday celebrations.
Highlights include the Gerbola Christmas Circus, the vintage Ferris wheel at Arundel Square, a vintage carousel, the Port of Waterford Eye, the Winterval Mini Express train, a virtual ride in Santa's sleigh plus a Wizards and Dragons interactive exhibition and even Santa Paws for doggies. Waterford's heritage takes a prime position with Déise Medieval who will host a traditional Viking Settlement plus Santa's Central Station is on Broad Street where he is meeting and greeting boys and girls for the entire festival.
In addition, there is an abundant programme of Music and Theatre. Ben Hennessy presents a new Shadow Puppetry Show at the beautiful GLOW Gardens at Winterval on Friday, Saturday and Sunday evenings. At the Apple Market each weekend a free show sponsored by WAMA & Theatrebox, which will engage with young spectators who can take part in the collection of Santa's posts will be on offer.  Join Winterval's Resident Storyteller Kitty Caboodle for a selection of songs and stories at The Book Centre.
The Winterval Live Stage offers  20 Days of Live Performances during the festival. House of Waterford Crystal is delighted to present its Annual Winter Music Series and there is lots more.
The full Winterval Festival programme is available to view and book online at www.winterval.ie