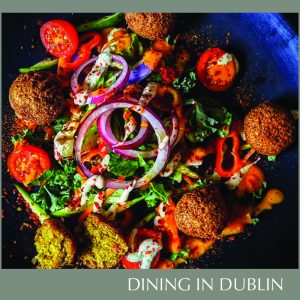 Curried chickpea falafel crisp salad with a roasted red pepper dressing and a minted yoghurt dressing serves and a red pepper powder serves x2
This recipe is devised by Paul Watters –  author of "Simple Tasty Healthy by PW"
Ingredients:
The falafel mix:
1 can of chickpeas (drained and rinsed)
1 clove of garlic
1 onion (cut in half)
2 teaspoons of coriander
2 teaspoons of dried ginger
2 teaspoons of curry powder
1 teaspoon of tumeric
1 teaspoon of chilli powder
3 tablespoons of all purpose flour
Salt and pepper
The dressings:
Red pepper dressing:
1 jar of roasted red pepper (available in all good stores)
1 clove of garlic
Salt and pepper
2 tablespoons of natural yogurt
Mint yoghurt dressing:
1/2 bunch of picked mint (chopped)
Juice of 1 lemon
1/2 cup of natural yogurt
Red pepper powder (available in all stores)
The Salad:
1/4 red cabbage sliced finely
2 handfuls of picked kale
1 red onion (cut into rings)
4 cherry tomatoes (cut in half)
2 baby cucumbers (sliced)
1 carrot (peeled and grated)
2 tablespoons of olive oil
Salt and pepper
Method:
For the falafel combine all the ingredients together until smooth in a food processor and transfer to a large bowl.
Rinse the food processor as it will be used again for the red pepper dressing.
Gather a little flour in your hands to prevent the mix from sticking and shape to the size of your choice.
Refrigerate for a few hours before cooking.
For the red pepper dressing:
Blend the jar of roasted red pepper in the food processor along with the garlic and salt and pepper until smooth.
Transfer to a bowl, add the yoghurt and mix well.
The minted yoghurt dressing:
Mix together the mint, yogurt, lemon juice and a little salt and pepper to taste.
Preheat the oven to 180 and place the falafel in an oven proof dish or tray, drizzle a little olive oil over the top and cook for 15 minutes.
Arrange the salad in a large bowl or plate and drizzle the dressing over the top.
Once the falafel is cooked place around the dish and sprinkle the red pepper powder on top.