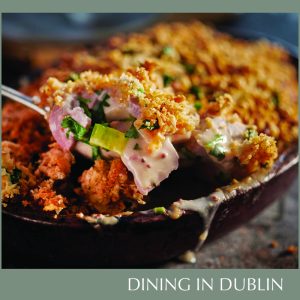 The epitome of comfort food. The perfect family winter warmer, you can swap out the crumble for a creamy mashed potato topping if you'd like to change things up.
This recipe is from Avoca's new cookbook AVOCA at Home. The perfect gift for food-lovers and home cooks, Avoca at Home is sure to spread the love of home cooking and of sharing indulgent, comforting, delicious food. Readers can expect a mix of Avoca classics, exciting new dishes, and tips on how to recreate the Avoca experience at home with simple, accessible, and delicious recipes. AVOCA at Home retails for €27.95 can be purchased in store or at www.avoca.com
Ingredients
600ml Chicken Stock
100g Butter
50g Plain Flour
175ml Cream
2 Tbsp Wholegrain Mustard
2 Tbsp Rapeseed Oil
1 Large Leek, White Part Only, Sliced
500g Cooked Chicken Fillets, Cut Into Bite-Sized Chunks
250g Cooked Ham, Cut Into BiteSized Chunks
2 Tbsp Chopped Fresh Flat-Leaf Parsley
150g Fresh Breadcrumbs
40g Grated White Cheddar Cheese
Fine Sea Salt And Freshly Ground Black Pepper
Method
Preheat the oven to 180°C.
Bring the chicken stock to the boil, then reduce the heat to keep it simmering gently.
Melt half the butter in a separate large saucepan over a medium heat. When it's foaming, stir in the flour with a wooden spoon and cook for about 5 minutes to create a golden-brown roux.
Add half the hot stock to the roux and cook for 3 to 4 minutes, whisking continuously, then pour in the remaining stock and cook for 3 to 4 minutes more, still whisking until thickened and smooth. Remove from the heat and whisk in the cream and mustard, ensuring there are no lumps of roux in the sauce.
Remove the pan from the heat and set aside.
Heat the oil in a frying pan over a medium heat. Add the leek and cook for about 5 minutes, until softened.
Put the cooked chicken and ham in a large bowl with 1 tablespoon of the parsley, then pour in the white sauce and mix well.
Season to taste, but go easy on the salt as the stock, ham and butter are already salty.
Transfer to a baking dish and spread it out evenly. A 25cm square Pyrex dish is ideal but use whatever you have.
Melt the remaining butter in a frying pan over a medium heat. Add the breadcrumbs and the remaining tablespoon of parsley and toss to coat the breadcrumbs in the butter, then scatter this over the chicken and ham along with the grated Cheddar.
Bake in the preheated oven for 10 to 12 minutes, until the breadcrumb topping is golden brown and the cheese has melted.
Serve straight to the table.