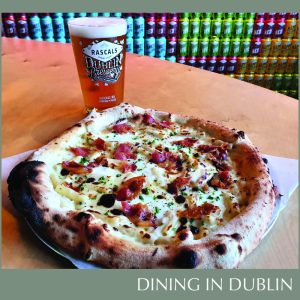 Rascals HQ – home to independent Dublin craft brewery Rascals Brewing Co – are introducing a special pizza for St. Valentine's Day called The Shift.
The venue on Tyrconnell Road – Dublin's only taproom and pizza restaurant – have put together a pizza with candied bacon, macaroni and béchamel sauce, topped with a sprinkling of chopped chives.
They've called it: The Shift.
Rascals HQ pizza chef Patrick Browne says:
"We wanted to go one better on our Valentine's pizza we created last year, which was called The Ride. We felt that was a bit 50 Shades of Grey; this is a bit more Pride and Prejudice. People might think a mac 'n' cheese pizza is counterintuitive when it comes to a romantic meal, but they'd be wrong."
"French cuisine has a long-held reputation for decadence and indulgence; béchamel sauce epitomises this. It's a sumptuous creamy sauce, inherently romantic you might say. The ground nutmeg used in its creation may even have aphrodisiac properties. In the United States in the mid-1800s it is said that macaroni and cheese was considered opulent or extravagant and was frequently served as a wedding meal. The romantic connotations with the dish would surprise you!"
Patrick says customers will be surprised at the delicate balance of ingredients:
"We're not talking about dunking half a pound of cooked pasta and sauce onto a pizza; such crudity has no place here. A precise amount of thin macaroni pasta sits perfectly on our crispy pizza dough and the mouth-watering candied bacon adds tremendous flavour. Together with the sauce and a sprinkling of chopped chives, well, I can be quite certain a lot of people will be getting The Shift in Inchicore on Valentine's night."
The Shift will be available only on St. Valentine's Day at Rascals HQ. We are also offering a deal of any pizza + glass of prosecco for €16.
People can book a table for St. Valentine's Day at Rascals HQ on www.rascalsbrewing.com or call 01 5382051.