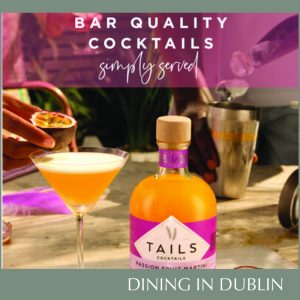 Raising the Bar at Home with Tails Cocktails 
All-New Premium Batched Cocktail Range brings all of the flavour and complexity of hand-made cocktails, yet none of the effort
Dublin Ireland 11th October 2022: Tails Cocktails, the premium batched cocktail range, is shaking up the hand-made and homemade cocktail offering with a brand new 'ready to shake' range available in selected outlets nationwide. The exclusive range of premium pre-batched cocktails is raising the bar for cocktail afficionados and those eager to serve premium drinks from the comfort of their own home coupling all of the flavour and complexity of high-quality cocktails without the added complexity of endless lists of ingredients and intricate preparation processes.  
Each serve is made using the highest quality, top-shelf spirits including BACARDÍ Rum, 42 BELOW Vodka, Bombay Sapphire Gin and Dewar's Blended Scotch Whiskey. Blended with top quality ingredients, the range is available in 500ml offerings and includes firm favourites and much-loved cocktails: 
The Espresso Martini is a sumptuous mix of 42BELOW vodka and premium espresso guaranteed to get the party started
The iconic Rum Daiquiri is the perfect combination of BACARDÍ Carta Blanca Rum, zesty lime and the sweetness of sugar
Passion Fruit Martini combines the tropical taste of Passion Fruit combined with citrus, 42BELOW vodka and a sweet hint of vanilla
The Gin Gimlet is a simple and refreshing blend of Bombay Sapphire Gin with elderflower liqueur and lime juice – a treat that will delight any gin lover
Whiskey Sour is a treat for the tastebuds. A rich silky-smooth cocktail made all the smoother with the finest Dewar's Scotch
The serve process couldn't be simpler – add ice, shake and pour. 
Tails Cocktails are available from SuperValu, Dunnes Stores and Tesco, specialist liquor stores and online outlets across Ireland. RRP for 500ml range is €19. 
For more information on Tails Cocktails, visit www.tailscocktails.com   
Enjoy Tails Cocktails responsibly. Visit drinkaware.ie 
About TAILS®
TAILS COCKTAILS is an exclusive range of premium pre-batched cocktails that bring the experience of the bar to your home, with all the flavour and complexity of hand-made cocktails, but none of the effort. Established in 2010, TAILS was founded with a vision to make high-quality cocktails more accessible to a wider audience of cocktail lovers. Each TAILS COCKTAIL begins with the highest quality, premium spirits – BACARDI® Rum, 42BELOW® Vodka, BOMBAY SAPPHIRE® Gin and DEWAR'S® Blended Scotch whisky – blended with top quality ingredients. The TAILS brand is part of the portfolio of Bacardi Limited.