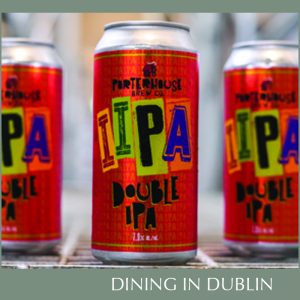 OCTOBER 2019: Award winning Porterhouse Brew Co is kicking off Autumn with a fresh new canned IPA. Available from October 2019, the Double IPA is a hazy, juicy, golden ale which uses ale, wheat, oats and cara in the mash for a smooth, chewy body.  The ale promises the aroma and flavour of tropical fruit with hints of orange, apricot, citrus, passion fruit, mango and peach.
The DOUBLE IPA is the 4th new canned IPA to be released by Porterhouse Brew Co this year. Already famous for their award-winning stouts and porters (its Plain Porter has won World's Best Stout, twice), the exploration into IPAs has been made possible following the opening of its state-of-the-art brewery in Dublin in 2018. Since opening, the brewery has released five new IPAs, whilst continuing to consistently produce its high-quality core portfolio of award-winning porters, stouts and lagers, scooping up additional accolades along the way.
Adding further awards to its existing list of accolades, last month saw Porterhouse Brew Co win a host of awards at the Global Beer Masters (an international competition judged purely on taste) and the World Beer Awards (which selects the best in country of all internationally recognized styles.) The independent Irish brewer was awarded Silver Medals for its Yippy IPA, Red Ale and Oyster Stout at the Global Beer Masters and achieved a Master Medal (the highest award) for its Celebration Barrel Aged Stout. The stout also received Best in Ireland at the World Beer Awards, which also saw the Porterhouse Pilsner awarded Best in Ireland, in the Hoppy Pilsner category.
Elliot Hughes, aged 25 (son of the late Oliver Hughes, an original founder of Porterhouse Brew Co) and the youngest Partner at Porterhouse Brew Co comments: "We're really excited to see what people think of our latest new canned, Double IPA which we think is a welcome addition to our ever-expanding IPA portfolio, particularly for those seeking a punchier ABV to the ones we've produced so far. The most recent accolades, particularly the Silver for our Yippy IPA, is testament to our brewers and proves our exploration into new innovative brews and investment into the new brewery has been a positive development for the business."
He goes on to say, "Those who are familiar with our beers really like what we stand for, which has always been and continues to be, quality and honesty. They like the fact that we are an independent, Irish-owned, family-run company brewing all our beer in Dublin. Consistent, quality beer is what Porterhouse Brew Co has become synonymous for, and we continue to deliver on that expectation."
A final new release from the Porterhouse Brew Co is scheduled for November 2019.
PORTERHOUSE DOUBLE IPA (ABV 7%) RRP From €3.80
Tasting notes: Tropical fruits, orange, apricot, citrus, passion fruit, mango and peach
Malts: Ale Malt, Wheat Malt, Oat Malt, Cara Malt
Hops: Magnum, Idaho 7, Galaxy, Mosaic, Citra
Stockist: Drinkstore.ie, McHughs, Deveneys, Redmonds, Molloys, Craft Central, Blackrock Cellar
Website: www.porterhousebrewco.ie
Social: T: @phbrew F: @porterhousebrewing I: @phbrewco