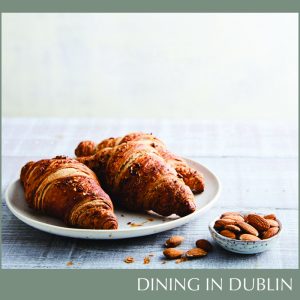 Dublin, 10th January 2020: Applegreen plc, the Irish food and convenience retailer and forecourt operator is inspiring their customers to try vegan and plant-based food this Veganuary, as they add new meat-free options to their Vegan Food Range in the Republic of Ireland.
Well known for their multi-award winning Irish made Vegan Sausage Roll, Applegreen is further expanding its vegan options this January.  Available from Monday, 13th January, Applegreen is launching a new Vegan Croissant across its stores.
Commenting on the new Vegan Croissant launch, Fiona Matthews, Commercial Director for Applegreen Retail Operations Ireland said: "Following the resounding success of the Vegan Sausage Roll last year, we have listened to our customers and are meeting the growing demand for a broader choice of quality plant based alternatives.  Our branded food partners have come on board in supporting our strategy with the Rebel Whopper launching recently in Burger King, the Meatless Meatball Marinara at Subway, whilst at Freshii you can create your own vegan or flexitarian favourites."
The brand new vegan croissant uses margarine as a butter replacement to create the light, flaky texture usually expected from a traditional butter croissant.
As part of Applegreen's continued commitment to food innovation and development, this January also sees the launch of a new vegan option to their sandwich and wrap range.  The limited edition Vegan Massaman Thai Wrap will be in-store from 13th January, selling for only €4.60.  It's a tasty blend of Potato and Butternut Squash in a Thai Style Curry Sauce with Crunchy Slaw and Flaked Almonds.
Fiona Matthews added: "We're continuing to develop our plant-based food range and are committed to bringing our customers more choices.  We work with the best local Irish producers and suppliers to deliver the most innovative, high-quality, great tasting food to our customers. Furthermore, we are working hard to address our customers ever growing sustainability concerns to close the loop fully on our recycled packaging and offer more sustainably sourced options."
There has never been a better time to be a vegan or flexitarian, and maybe 2020 is the year to give Veganuary a try?