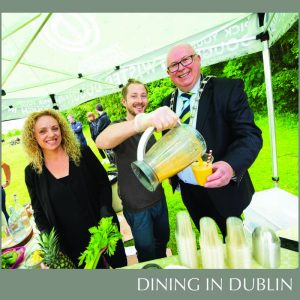 A sterling addition to Dublin 15 was unveiled on Sunday June 23 at the official launch of the Urban Food and Craft Market at St. Catherine's Park, Lucan.
The Market features a wide variety of stalls selling an assortment of food offerings every Sunday from 10am to 5pm until October.
Fingal County Council was represented by Acting Mayor Cllr Howard Mahony, who emphasised that the venture is being supported by Fingal County Council to further enhance the extensive amenity of St. Catherine's Park.
Cllr Mahony said: "Fingal County Council is delighted to support this initiative which lets visitors and communities enjoy high-quality foods and crafts in beautiful surroundings.
"The Market is a valuable addition to St. Catherine's Park, which was recognised as Best Public Park in Ireland at the All Ireland Community and Council Awards earlier this year."
Located between Lucan, Leixlip and Clonsilla, the 81-hectare park boasts scenic woodland and river walks, playgrounds, picnic areas, playing pitches, adult exercise equipment and a BMX track.
The park, which holds a Green Flag Award, lies within a natural conservation area, managed carefully to ensure the protection, management and enhancement of wildlife, habitat and built heritage.
For more information on St. Catherine's Park click here https://bit.ly/2wUwJ0w
Image: L to R: Joan Kernan, Karl Kowalczwk, Acting Mayor of Fingal County Council Cllr Howard Mahony.