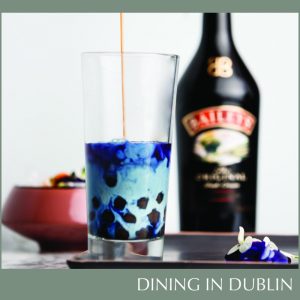 The first ever Baileys Treat Report predicts Butterfly Pea Flower Bubble Tea will be THE top treat for 2020
February 2020 sees the launch of the first ever Baileys Treat Report, a lick-your-lips look at the tastiest trends in adult treating brought to you by the team at Baileys. The report is packed full of insights from those in-the-know, fromPinterest, the visual discovery engine, to experimental gastronomy studio Kitchen Theory. It's also sprinkled with commentary from treating experts and industry insiders like Dublin's ice cream lab Three Twenty and international baking extraordinaires Lily Vanilli, Benjamina Ebuehi, Edd Kimber and Georgetown Cupcakes.
Kicking off the year with a sweet start, the report offers an in-depth look at current and burgeoning trends set to shape treats for 2020 and beyond, both at home and within the industry. Who better to delve into the mix than Baileys – the co-conspirator in the pursuit of indulgence? Take a look below for the top trends from the report, curated with the help of global treat makers and lovers. It's set to mix things up for everyone from home cooks and hobbyists to professional movers and shakers (or should that be stirrers and bakers?).
The number one trending treat predicted for 2020? The report reveals that this year's star will be Butterfly Pea Flower Bubble Tea. With an eye-catching vivid blue hue, colour-changing properties and a trend-hitting savoury flavour profile, Butterfly Pea Flower ticks all the boxes for 2020. Hotly tipped as THE ingredient for the year ahead, treat-lovers can enjoy a delicious drink and an instantly 'likeable' social media post. Move over matcha, 2020 is the year we'll be seeing blue.
Here are the next ten trends topping the treating charts for home bakers and pastry chefs:
Savoury and sweet. With a growing understanding of umami, the fifth taste sensation, savoury ingredients are increasingly turning up in our sweet treats and desserts. This trend is set to grow in 2020 with savoury surprises such as bacon, beetroot and spices finding their way into our favourite puds. Tahini brownie anyone?
Perfectly imperfect. Perfection is passé. Pinterest insights reveal that #bakingfails is a fast-growing topic – celebrating the mess, the not-quite-right, the why didn't it rise, in ever more ingenious ways. We predict we'll be proudly sharing even more mistakes and 'creative bakes', no matter how they turn out, all over social media throughout 2020.
Don't dessert me now. Why should we only have dessert after a meal? Consumers are set to continue the shift from a sweet treat being a post-meal moment to an indulgent anytime pleasure.
Ain't no stopping cake pops. Our love for mini desserts keeps on growing, and cake pops in particular will emerge as superstars over the year. This cute lollipop/cake hybrid is on track to emerge as the number 1 home baking treat in 2020.
Blue is the new green. Move over matcha – 2020 is the year of blue. Blue tea to be exact, thanks to the rise in popularity of butterfly pea flowers and leaves as an ingredient. Consider it the new matcha, used to flavour any sweet thing you can think of.
A taste for nostalgia. Much-loved nostalgia flavours, such as apple pie with a good sprinkle of cinnamon, will be reimagined and take a contemporary spin to bring a new wave of retro-inspired foods that bring back memories of our most comforting flavours.
New future classics. On the flip side, the recent surge in flavour combinations such as sea salt with caramel will see lots more classic flavours marry up with new and unique ingredients – watch out for Himalayan salt, ube (purple yam), black truffle and bacon and maple syrup in your pud. Yum.
A pudding less ordinary. 2020 will pave the way for more interactive, hands-on desserts and treats livening up our dinner tables at home and in restaurants. Why settle for hot chocolate, when you can have a beautiful blooming marshmallow flower hot chocolate?
Free from is good form. Hyper-awareness of what we consume and how it affects our bodies and our environment will amplify demand for an increased variety of free from treats.
Grown-ups only. Alcohol and the use of more complex flavours are driving an explosion of grown-up treats with Baileys Cheesecake being Ireland's number 1 favourite dessert*, need we say more?
Jennifer English, Global Brand Director for Baileys added: "At Baileys we're obsessed with treats – we believe that every grown-up deserves a little indulgence once in a while. We are fascinated by what's trending in the deliciously indulgent world of treats, and the influences that come from top pastry chefs through to home bakers. So we decided to bring together some of our favourite sources of inspiration, and share our insights in this new report. We're excited to play a part in shaping the future of grown-up treats around the globe."
Indulge in the Baileys Treat Report in full here https://www.baileys.com/en-row/treat-report.html.