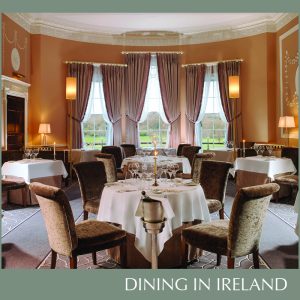 AA Ireland has today announced the awarding of an AA Four Rosette Award for The Lady Helen Restaurant at Mount Juliet Estate, Thomastown, Co Kilkenny.
The rosettes are awarded for the quality of cooking and are similar in standard to Michelin stars. To be eligible to receive 4 AA Rosettes restaurants are required to achieve exacting standards in how ingredients are sourced, prepared and severed. This coveted achievement is awarded solely on the basis that the restaurant demonstrates exceptionally high standards of cuisine.
In awarding AA Rosettes, the AA Hospitality inspectors place significant emphasis not only on the final product, but also the produce used by the restaurant. In particular, the AA's inspectors praised The Lady Helen Restaurant, as well as chefs John Kelly and Ken Harker for working closely with local and artisan suppliers to ensure that the menu always offers the best of what is in season.
As part of a series of secret inspections prior to the award being given, the AA Hospitality Services team were impressed by the stewardship of chefs John Kelly and Ken Harker, crediting this leadership with the continued rise in standards from the innovative team at Lady Helen. In particular, the AA's team credited the chefs for "taking their inspiration from the carefully sourced ingredients available to them, and adding well-honed technical skills, interesting combinations are created, yet nothing to frighten the less adventurous diner."
Commenting on the awards, AA Director of Consumer Affairs Conor Faughnan stated "The team at The Lady Helen Restaurant truly do pull out all the stops to provide a memorable experience for anyone lucky enough to dine there. Our team of inspectors are far from easily impressed, and to achieve an award of 4 AA Rosettes requires not only incredible dedication by all those working in the kitchen, but a commitment to consistency in ensuring that every dish which leaves the kitchen meets the highest of standards."
The AA has been awarding Rosettes for Culinary Excellence since 1956, with the top award of five rosettes being introduced in 1991. The multi rosettes are awarded bi-annually in January and September, with success being determined by a series of visits by a panel of hotel and restaurant inspectors.
The Lady Helen joins Restaurant Patrick Guilbaud in Dublin as Irelands two Four Rosette restaurants.