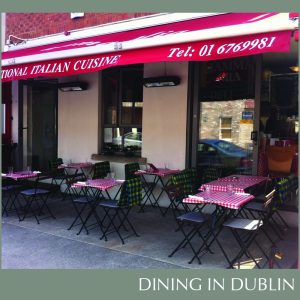 Mamma Mia are delighted to reopen Tuesday-Saturday from 1pm – 9pm!
Owners Clint & Ruth Hamilton are highly inspired by their love & passion for both Italian food and the Italian way of life; evident in Mamma Mia's cosy, relaxed setting which has warm echoes of the Italian family lifestyle.
Under the care of traditional Italian chefs and their expertise in traditional cookery techniques, homemade and traditional Italian dishes fill the menu, using only the very best of seasonal & local produce. Chef Roberto Coter (Bergamo, Italy) has extensive experience, having worked in Italian kitchens in both Ireland and Australia after leaving his native Italy in 2009. Traditional and classic Italian pizzas are the creation of pizza chef Ariel Garcia.
2 Grattan Street,
Dublin 2