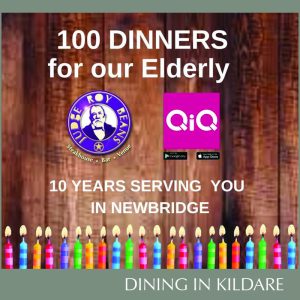 On Wed 1st April to Celebrate our 10th ANNIVERSARY & the Launch of our JRB's@HOME we want to deliver 100 FREE DINNERS to our elderly in Newbridge.
Our Staff have Volunteered to work for free & QiQ will deliver for free. So please PM us if you know someone who deserves this. We will deliver Soup, Roast Beef & Cheesecake.
We need their Name, Contact Number & Eircode
For our Take Out Deliveries please download the QiQ App or Call us to 045438077 from Wed 1st @ 6pm.
1 Edward Street Newbridge, Co. Kildare
+353 45 438 077
info@jrbs.ie