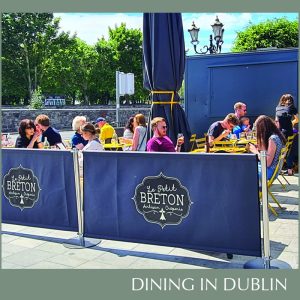 Le Petit Breton is an artisan crêperie located on the busy junction of Whitworth Road and Lower Drumcondra Road, only a stone's throw from the city centre. Their outdoor seating area is now open with parasols and windbreakers, so you know you can visit in rain or sunshine!
Chef Gregory Autret has created a menu of Crêpes and Galettes using the finest Breton products. Taking inspiration from his home town and the ever present Breton tradition, come and enjoy an authentic experience!
The savoury crêpes are made from buckwheat flour (a naturally gluten free product) while the sweet crêpes are made from wheat flour. For authenticity their crêpes are made from flour produced in a Brittany mill, and imported directly.  At Le Petit Breton they've kept some of the old favourites such as La Complète (egg, ham and cheese) but have added more contemporary options showcasing the best of Irish produce.
Le Petit Breton, Artisan Crêperie
1A Drumcondra Road Lower
Drumcondra
Dublin 9
Telephone: 01 850 0901