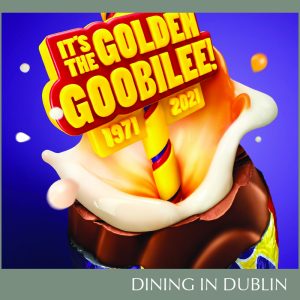 The nation's favourite gooey chocolate egg* celebrates its landmark birthday with a limited edition Golden Creme Egg to find in store 
January 2021: Cadbury Creme Egg lovers rejoice – everyone's favourite gooey, chocolatey egg is back on shelves now for a limited time only.  To add to the egg-citement, this year, Cadbury Creme Egg is celebrating its 50th birthday. To mark this momentous occasion, fans will have the chance to find an egg-sclusive Golden Creme Egg in stores across Ireland and win up to to €5,000. Let the Golden Goobilee celebrations begin!
The limited edition Golden goodies will be hidden in stores masquerading as the much-loved classic Cadbury Creme Egg for fans to uncover. The gooey delights have been given a golden touch with the delicious Cadbury chocolate shell covered in edible gold dust, and filled with that familiar fondant goodness.
For five delicious decades, Cadbury Creme Egg has been the nation's favourite Easter brand – with one Cadbury Creme Egg sold every 4 seconds. Fans are united by their love for the 'goo', but divided in the best way to eat the majestic treat.  Whether you are a licker, dipper or a sharer, one thing is for sure – this will be a cracking birthday celebration.
It might be Cadbury Creme Egg's birthday but the presents are for you, the fans. Delicious Golden Creme Eggs will be hidden in stores across the nation, and the lucky fans who unwrap these elusive delights will win a cash prize of up to €5,000!
How can you win? There are three easy steps between you and claiming the coveted prize.
Step 1. Unwrap a Creme Egg to see if you have a golden egg.
Step 2. Call the number on the voucher inside the foil
Step 3. Follow the phone guidance and keep both the packaging and voucher to claim your prize
The in-store promotion will run from 26/12/2020 – 04/04/2021. For more information and full terms and conditions, visit www.cadbury.ie and join in the conversation on social on Instagram, Twitter and Facebook @CadburyIreland
CADBURY CREME EGG GOLDEN GOOBILEE FACTS:
In Ireland, one Cadbury Creme Egg is sold every 4 seconds.
Cadbury Creme Eggs are only available from St. Stephen's Day to Easter.
Cadbury lays 66,000 Cadbury Creme Eggs an hour and a whopping 1.5 million a day.
Over 500 million Creme Eggs are made every year, one third of which are sold overseas.
If all the Creme Eggs made in a year were laid from end to end, it would stretch from Bournville to Sydney, Australia.
The Cadbury Creme Egg we know and love today first appeared in 1971.
RRPs
Cadbury Creme Egg single: e40g – €0.90
Cadbury Creme Egg five pack: e197g – €5.00
Cadbury Creme Egg ten pack: e400g – €8.00
Cadbury Mini Egg Creme Egg bag: e89g – €2.00
The in-store promotion will run from 26/12/2020 – 04/04/2021. For more information and full terms and conditions, visit www.cadbury.ie
ABOUT MONDELEZ
About Mondelēz International 
Mondelēz International, Inc. (NASDAQ: MDLZ) empowers people to snack right in over 150 countries around the world. With 2018 net revenues of approximately $26 billion, MDLZ is leading the future of snacking with iconic global and local brands such as Oreo, belVita and LU biscuits; Cadbury Dairy Milk, Milka and Toblerone chocolate; Sour Patch Kids candy and Trident gum. Mondelēz International is a proud member of the Standard and Poor's 500, Nasdaq 100 and Dow Jones Sustainability Index. Visit www.mondelezinternational.com or follow the company on Twitter at www.twitter.com/MDLZ.
About Cadbury
For nearly 200 years, since John Cadbury opened a grocer's shop in Birmingham in 1824, Cadbury has been the nation's favourite chocolate bar. Recently voted Brand of the Year 2019*, Cadbury has a wide range of well-loved delicious chocolate that reminds the nation that there is a 'Glass and a Half' of generosity in everyone. The brand's success is built upon its deep understanding of customers, shoppers and the category, ensuring it continues to evolve to remain relevant. The health and wellbeing of consumers is hugely important and so through BeTreatwise aims to remind people that treats are special, to be enjoyed in moderation as part of a balanced lifestyle. Portion control and consumer education, through on pack labelling, have a huge part to play in Cadbury's strategy to 'inspire mindful snacking'. The brand recently announced its plans to bring all Cadbury products predominantly purchased by parents for children, under 100 calories. As well as this, reduced sugar innovations such as Cadbury Dairy Milk 30% Less help consumers manage their sugar intake. 100% of the cocoa in Cadbury's chocolate is sustainably sourced through the company's industry leading Cocoa Life programme, which supports sustainable cocoa farming. This helps secure a positive future for farmers, their families and their communities.