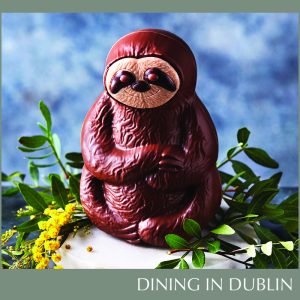 M&S are welcoming a playful new addition to the shelves, let us introduce you to *drumroll please*… Seth the Sloth! This Easter, M&S Egg Developers have hand decorated a milk chocolate hollowed 'egg' which takes the unusual form of a sweet little smiling sloth.
Katy Patino, M&S Easter Egg Developer, says: ''This year's egg collection is possibly my favourite ever. I absolutely love the new variations on the traditional Easter egg. Our goal is to deliver M&S customers the premium in chocolate this Easter, and we predict Seth will be a firm favourite.''
Seth is hand crafted by chocolatiers at M&S with each and every egg boasting a velvety smooth yet luxuriously rich taste, typical of the premium standard in chocolate that M&S is known for. Seth the Sloth doesn't go anywhere fast, but at M&S we are sure he is bound to fly off the shelves.
In stores now €7.50