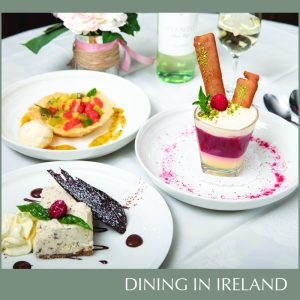 Spend an evening this Valentine's Day in one of Athlone's most romantic settings. Hatters' Lane Bistro features an open fire, check table cloths and walls adorned with some of Hollywood's biggest movie stars icons.
Hatters' Lane Bistro on Strand Street in Athlone, who aim to provide the highest standards in bistro style dining by using quality Irish ingredients sourced from local suppliers where possible, have created a special three-course menu that will make this Valentine's Day a truly memorable one.
Diners who choose to spend their evening at Hatters' Lane Bistro can feast on a choice of beautiful starters such as Smoked Bacon & Black Pudding Potato Cake with Crispy Hen's Egg and Tomato Chutney, Prawns Pil Pil with Garlic Infused Oil, Fresh Chillies and Coriander or Thai Style Mussels with Red Curry Cream and Crusty Breads.
There are a variety of mains to choose from which include delectable dishes such as Braised Pork Shoulder with Buttered Cabbage, Bacon Lardons, Calvados Jus and Apple Purée, Pan-Roasted Cod with Stem Broccoli, Confit Tomatoes, Lemon & Chive Beurre Blanc or Supreme of Chicken with Stirfried Pak Choi, Herbed Rice, Chilli, Soy & Sesame Dressing. The menu also includes a terrifically tasty vegetarian option of a Vegetable Nut Roast with Hummus, Black Olive Tapenade, Red Pepper Coulis and Seasonal Leaves.
For dessert, diners can indulge in dishes such as the famous Hatters' Toblerone Cheesecake with Fresh Cream and Chocolate Sauce, Warm Chocolate Cake with Salted Caramel Ice Cream and Honeycomb or Strawberry & White Chocolate Meringue with Chantilly Cream, Strawberry & Basil Coulis, all of which are made in-house.
An extensive wine list is also available at Hatters' Lane Bistro, as well as an array of beers and spirits. As an additional treat, anyone who chooses to dine at Hatters' Lane Bistro while the Valentine's Menu is available, will be treated to a complimentary glass of Prosecco making it all the easier to toast to a beautiful evening spent together. Surrounded by the quirky interiors and check table cloths that make Hatters' Lane Bistro so unique, you and your date will both feel as though you've been transported into a scene from an old Hollywood romance movie.
The Valentine's Menu will be available on Thursday the 13th, Friday the 14th, and Saturday the 15th of February from 5.30pm to 10.00pm. The Valentine's Menu costs €30 per person for three courses including a complimentary glass of Prosecco. Reservations for the Valentine's Menu at Hatters' Lane Bistro can be made by sending an email to hatterslanebistro1@gmail.com or calling (090) 647 3077.
You can also follow Hatters' Lane Bistro on Facebook or Instagram by searching the handle @HattersLaneBistro.
About Hatters' Lane Bistro
Hatters' Lane Bistro on Strand Street by Athlone's Leinster shore is a Hollywood themed bistro offering a welcoming and cosy atmosphere with an open fire, check table cloths and walls adorned with movie star icons. The background music is easy listening typically featuring tunes from Sinatra, Martin, Bennett and the likes.
Since opening in 1999, Hatters' Lane Bistro has established itself as a centre of high quality casual dining. Each of the menus at Hatters' Lane Bistro are a celebration of the fantastic produce that Ireland has to offer and that commitment to sourcing local as much as possible is reflected in a menu that is now made up of about 75 – 80% Irish products. In the kitchen at Hatters' Lane Bistro, you will find the chefs working with Hereford beef from Offaly, organic salads from Millhouse Farm in Roscommon as well as pork from Horan's Pork Shop, mince from Dunning's Master Butchers and fruit and vegetables from Behan's which are all based in Athlone.
Renowned for their great steaks, the cuisine is continental and offers a comprehensive menu featuring fish, chicken, pasta and vegetarian dishes. Offering an À La Carte, Value and Set Dinner Menu, coupled with its private library room, it is ideal for all occasions.
Address: Hatters' Lane Bistro, 1/2 Strand St, Athlone, Co. Westmeath, N37 K7K8
Website: www.hatterslane.ie
Contact: (090) 647 3077 | hatterslanebistro1@gmail.com
Facebook: Hatters' Lane Bistro   Instagram: @HattersLaneBistro