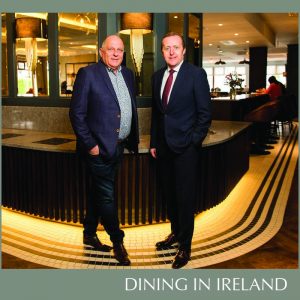 €1 MILLION RENOVATION COMPLETED AT VIKING HOTEL WATERFORD
Design Team lead by Celebrity Architect Hugh Wallace, Director of Douglas Wallace Architects
International hospitality giant, PREM Group has completed its renovation of The Viking Hotel, Waterford. The hotel is located just five minutes' drive from Waterford city centre off the N25 making it easily accessible from both Dublin and Cork. Due to its location, easy access and complimentary parking the hotel is a popular choice for meetings, corporates and the many local businesses which surround it. Management wanted to build on its existing business and offer customers a superior food and beverage facility on the ground floor and it was this decision that led to over €1 million being spent on a restaurant, bar and coffee dock. Celebrity architect and start of RTE's 'The Great Home Revival' and 'Home of the Year', Hugh Wallace of Douglas Wallace Architects was commissioned to oversee the new design. Hugh, together with his team of architects and designers set to work to create an open plan dining facility that would lend itself well to light bites, afternoon tea, lunches or evening dining. The space has three distinct areas which flow into one dining emporium called 'The Wooden Pestle'. This area includes a Coffee Dock, circular bar and an informal bistro style restaurant all designed to maximise light and space and to facilitate all day catering options including breakfast and evening meals.
The large central bar and Coffee Cock at the heart of the ground floor anchors the space allowing various dining and lounge spaces to surround it. A combination of bistro tables, banquette seating and comfortable arm chairs now offers seating for up to 120 diners. Upon entry guests will be immediately drawn to the warm, wooden herringbone patterned floor which flows throughout and surrounds the stunning bar. White marble topped high tables with subtle grey veining at the front of the bar area enjoy natural light and are complete with power points for laptops and mobile phones making these spaces popular for anyone who wants to catch up on work or emails while on the go. The choice of materials throughout the space has resulted in a high end, luxurious feel. "We opted for a mix of natural wood, bevelled mirrors, glossy surfaces and luxurious fabric to create a space that would be conducive for diners or people meeting up for a quick coffee, lunch or late evening bite to eat," said Hugh Wallace. "We wanted the ground floor to feel light, stylish and comfortable, it also had to work well for the various food components on offer and that is why, although it is one large space there are in fact three distinct spaces."
A palate of grey, blue and gold has been used throughout, with the bar being finished with vertical pieces of wood on a gold background which create deep shadow lines and result in a rich, high end feel. Banquette seating in luxurious velvets are complemented with chairs upholstered in grey and midnight blue while feature lights include art deco lamps, wall mounted light fittings and overhead cage style fixtures overhead.
Jim Murphy, CEO of PREM Group said, "The Viking Hotel has always been a popular meeting place in Waterford, it is also easily accessible for people travelling along the main Cork to Dublin road. Business people want to meet and eat on the go but they want high quality food in a space that is handy and conducive to work meetings. All the high tables at the front of the bar have charging points for laptops and mobile phones and the natural light that floods this space is wonderful. We offer barista style coffee and all-day dining options too and of course the complimentary car parking is a major bonus for our guests. The space works really well now, it's stylish but practical and our customers really like it."
The investment at The Viking Hotel is just the latest development in a long line of investments and capital projects being carried out by PREM Group. The group also owns The Hoban Hotel in Kilkenny which has also been renovated to the tune of €1 million and The Osprey Hotel in Naas, Co. Kildare where a new spa also designed by Douglas Wallace Architects was completed last year. Further investment in the Kildare property is due to take place in the later part of this year with plans afoot to add new bedrooms. The PREM Group owned, Cahernane House Hotel in Killarney has recently enjoyed a €6.8 million renovation programme where all the bedrooms and public areas in the Manor House were refurbished and 8 new bedrooms are currently under construction in the old Coach House. Works are also underway at PREM's Tulfarris Hotel in Blessington. For more information on The Viking Hotel, Waterford see www.vikinghotelwaterford.ie