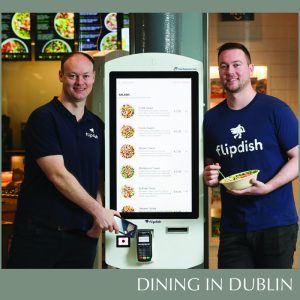 Dublin, May 2020 – Flipdish, the Dublin based digital food-ordering solution for independent eateries, is extending its service offering to hotel kitchens in Ireland to assist in setting up hotel restaurants for online orders and deliveries during Covid-19.
In response to the new restaurant regulations, which includes a ban on the use of in-house dining rooms during the Covid-19 pandemic, hotels in Ireland are looking for alternative revenue streams to compensate for reduced reservations and the dramatic drop in future bookings. 
Scholars Townhouse Hotel in Drogheda, Louth, is one of the first hotels in Ireland to go live with Flipdish. Owned and operated by the McGowan family, Scholars Townhouse Hotel boasts a 16 room hotel, a gastrolounge, and a traditional Irish bar. The gastrolounge, which had been closed during the Covid-19 pandemic, is now offering a takeaway service Thursday through Sunday with six starters, six mains, and a few desserts on the menu.
"When we started offering the takeaway service, there was only one other eatery in the area offering takeaway at the time, so we didn't know how people would respond. Fortunately, people are really enjoying the option of being able to 'eat out, but eat in' that ordering from us is affording them and it's great to have that community support. Flipdish helped us get up and running almost immediately, so we were able to get our business back up and running as quickly as possible, which has made a huge difference for us," stated Mark McGowan, owner of Scholars Townhouse Hotel.
Flipdish is also working with several other hotels around the country to help their kitchens stay open, including Killarney Plaza Hotel in Kerry.
Flipdish, who operate in 14 countries, are dealing with thousands of restaurants and takeaways around the world daily during this crisis, and are learning firsthand the challenges they are facing and the solutions they could implement. Flipdish has seen a 50% increase in the number of users ordering via Flipdish since the beginning of 2020 due to an increased surge of new restaurants signing up to use Flipdish.
Conor McCarthy, Co-Founder and CEO of Flipdish stated, "The current situation is forcing near-term and mid-term change to both consumer behaviour and restaurant operations. We are beginning to see how willing the traditional dine-in sector are to adapt and change how the business is run which might be the difference between survival and failure of the larger hotels and their ability to keep staff employed."