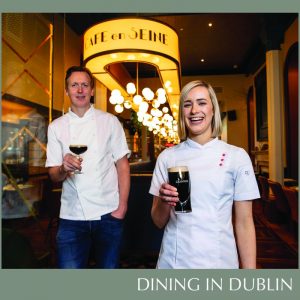 Dublin, 5th March 2020: As part of the 2020 GUINNESS SIX NATIONS Experiences and ahead of the round five France v Ireland fixture, GUINNESS is celebrating a fusion of the best of Irish and French gastro-cultures with a GUINNESS SIX NATIONS foodie experience. Guinnesstronomie will bring Euro-Toques Young Chef of the Year, Gráinne Mullins and Café en Seine Executive Head Chef, Stephen Gibson together for a "battle of the nations" whereby both chefs will go head to head in a cook off. Gráinne will deliver an Irish inspired tasting menu and Stephen a French inspired tasting menu. Guests will enjoy all six courses and will have the chance to vote for their favourite dishes on the night.
This event will be hosted by a former rugby legend, who will spark the friendly rivalry among the chefs and bring out the inner food critic in each guest! The winning menu will be served in Café en Seine over the weekend of 14th to 15th March.
There will be two Guinnesstronomie sittings on Friday, 13th March, one from 17:00 to 19:00 and the second from 19:30 to 21:30. Members of the public can book a spot at the Guinnesstronomie Experience by emailing Café en Seine at: bookings@cafeenseine.ie or call (01) 677 4567. Guests at this experience will be treated to Irish and French culinary delights, created by some of the best culinary talent the island has to offer. The Guinnesstronomie experience will cost €48 for a six-course tasting menu, including a pint of Guinness or a Guinness Espresso Martini, created especially for this event.
Additionally, guests who come along with a rival French friend will receive a free pint of Guinness or Guinness cocktail (one per customer only). Members of the public who wish to attend this event must be over 18.
Throughout the GUINNESS SIX NATIONS, GUINNESS has brought to life the wonderful characteristics of on-field rivalry and off-field friendships, by bringing people together to share some of the best cultural experiences on offer across each of the six nations. Check out www.guinness.com for more details.