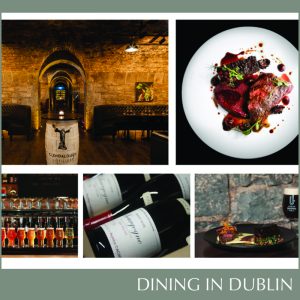 Candlelight and romance await at Stack A Restaurant at Urban Brewing this Valentine's Weekend with a Lovingly  Created Menu by Head Chef Dan Keane. 
Stack A Restaurant has launched a romantically inspired Valentine's Menu which will be available from the 13th – 15th of February. Guests will be welcomed and shown to the unique, unrivalled setting located deep within the underground vaults of the CHQ building.
Diners will experience Stack A Restaurant's signature style of locally-sourced Irish ingredients with globally-inspired flavour combinations and can expect dishes such as Chicken Liver and Madeira Parfait with Elderberry and Blackcurrant and Toasted Brioche and  Cured Fillet of Sea Trout, Herbed Crab, Roe, Apple, Celery and Sorrel. 
Valentine's Day is the perfect excuse to indulge, and for dessert guests can indulge in a  Caramelised Milk Chocolate Tart with Freeze Dried Raspberry, Milk Sorbet and Caramel Wafer  which is designed to be shared with your special someone.
Dan Keane, Head Chef at Urban Brewing said, "Valentine's Day is an opportunity to step away from your everyday routine and spoil each other. We wanted to create a menu that would do that, something special that's a little bit different. I think we've managed to do that using locally sourced ingredients combined in a way that's a little unique."
To continue the magic of the evening couples can savour the romance and enjoy a cocktail or exclusive in-house brew on Urban Brewing's heated and sheltered outdoor terrace.
The Valentine's Day Menu costs €50 per person (add matching beers for €15 per person or matching wines for €20 per person) and bookings can be made via email to welcome@UrbanBrewing.ie or phone 01 568 5989.
Stack A Restaurant at Urban Brewing is located at Vault C, CHQ Building, Custom House Quay, IFSC, Dublin 1.
To find out more visit www.urbanbrewing.ie and follow Urban Brewing on social @ubrewingdublin, and Stack A Restaurant on Instagram @stack_a_restaurant  and Twitter @stack_a_dublin.
About Stack A Restaurant at Urban Brewing:
Stack A Restaurant at Urban Brewing is located in the underground vault of the 200-year-old CHQ building, formerly known as 'Stack A', in the heart of the Dublin Docklands. An architectural masterpiece in its own right, Stack A Restaurant at Urban Brewing is a finer dining experience suited to both intimate small gatherings and large groups of up to 250 people. The layout of the vaults, each separated by centenary brick and stone walls, makes for an unrivalled atmosphere and setting. The restaurant offers an extensive lunch and dinner menu, as well as group menus and canapés which makes it the perfect venue for any occasion.
About Urban Brewing:
Urban Brewing was established in 2017 by O'Hara's Brewery, one of the pioneers of Irish craft brewing and now one of the largest craft breweries in Ireland. The Urban Brewing concept is unique and the first of its kind in Dublin. Urban Brewing encompasses, over three floors, a fully-functional microbrewery, two bars (Taps + Tapas Bar and Vault Bar) and a 250-seater finer dining restaurant, Stack A Restaurant. Urban Brewing celebrates the rich history of the building, while also adding a contemporary urban twist. As well as a rotating selection of exclusive in-house brews and an extensive range from O'Hara's, Urban Brewing has a beer selection extending to more than 200 different choices, including some of the most unique and limited edition beers in the world. While beer is at the heart of Urban Brewing, the team also prides itself on its impressive menu of wine, spirits and cocktails. At Urban Brewing you can also experience the world of brewing on a Brewery Tour where you will learn about recipes, techniques and flavour combinations, as well as how to create the perfect match of beer and food. Urban Brewing caters for groups of up to 600, corporate and Christmas parties, weddings, and a wide variety of events.
About Urban Brewing Head Chef Dan Keane:
Dan Keane is the head chef at Urban Brewing with a style of food that emphasises quality Irish ingredients with global influences from his time travelling the world, with a particular passion for the social style of tapas. Dan has worked in award-winning kitchens in Ireland and abroad, bringing a vast knowledge of both Irish and international food. His love of local, seasonal ingredients, and his vast knowledge of international food have come together in Urban Brewing's innovative menus, which complement their house brews to create a unique dining experience.