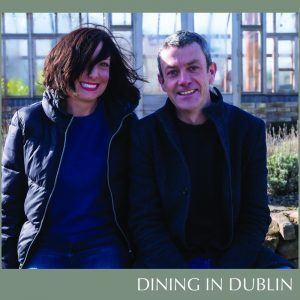 A brand new series of Grow Cook Eat is about to be broadcast into homes across Ireland on Wednesday, March 18th for a seven-week prime time run on RTE 1. Throughout this series, GIY are calling on the people of Ireland to join them and participate in the UN's Decade of Action to achieve the Sustainable Development Goals (SDGs), with food systems playing a major role in several of the 17 SDGs.
The show is anchored at the home of GIY, at GROW HQ in Waterford City and each week the TV show sees presenters Michael Kelly and Karen O'Donohoe travel to meet and visit expert food producers, chefs, and innovative community food projects all across the country, plus delicious menu ideas will be shared weekly by Chef Katie Sanderson, founder of White Mausu. From plot to plate to waste, Grow Cook Eat shows that simple, everyday food actions can make a powerful lifestyle change.
Commenting on the upcoming third series Michael Kelly says: "The Decade of Action is a stark reminder that it is now or never to make significant changes in how we live and consume. The climate change outlook can be overwhelming, but we have every reason to be positive in confronting the huge percentage of emissions that comes from how we produce and consume food. Through Grow Cook Eat we want to show our audience that food activism is not only important, but it comes with the many benefits of learning new skills, supporting local producers and eating healthy, delicious meals. We are asking the people of Ireland to tune in and join us in a cultural shift towards more local, seasonal food, zero waste and a healthy obsession with homegrown veg."
Some of the food sustainability story highlights include trips to some of Ireland's most innovative food companies battling against the realities of a changing climate, from the largest onion farm in North Dublin to a Galway-based organic farm delivery service; insights into ancient Irish grains and wild berries in Kilkenny and Offaly; and surprising food stories from behind the scenes at Fota Wildlife Park to potato waste gin in Wexford.
The series also features a new UN Programme called Chef's Manifesto, for which GROW HQ is the Irish Action Hub. An international initiative bringing chefs together to help implement the SDGs for 2030, Chef's Manifesto gives chefs the tools to focus on eight thematic areas, including ingredients grown with respect for the earth and its oceans, protection of biodiversity and animal welfare, reducing waste, a celebration of local, seasonal food and making nutritious food accessible and affordable to all.
At the centre of Grow Cook Eat is GIY's core message that the best way to create a more sustainable relationship with food is to grow a small amount of your own. Each episode shares with viewers all of the knowledge required to grow a different vegetable and how to turn this into a delicious dish for all of the family. The vegetables are grown in both a typical home garden space as well as containers suitable for apartment living. This series they include broad beans, oriental greens, cucumber, broccoli, chard, celeriac and strawberries. Katie Sanderson's simple but delicious recipes show how vegetables can take centre stage in a main meal, while the homegrown produce from GROW HQ highlights the importance of local, seasonal and plastic-free food.
Speaking of the challenge Grow Cook Eat is setting out for viewers, presenter Karen O'Donohoe says:
"Small changes can have a huge impact, and food growing, in particular, has a massive ripple effect in how people then think about food more broadly. While it's easy to wait for governments and companies to take the lead, so many solutions are already on our doorstep. We can grow some of our own food, buy directly from local farmers and get more creative with how we cook veg. Start with one crop, one recipe, see how easy it is and then tell your friends!"
To take the challenge and contribute to the Decade of Action, viewers can begin their growing journey with a GIY GrowBox, a simple range of growing kits designed to capture everything GIY knows about food growing in a box to help people overcome their lack of space or confidence. Starting at €10, all proceeds from GrowBox go back into supporting GIY's food education programmes in schools and communities across Ireland and beyond. For further details, along with veg growing guides, lots of extra recipes and more info on each episode visit www.growcookeat.ie
GROW COOK EAT airs each Wednesday evening at 8.30 pm on RTE1 from March 18th until April 29th. The show is sponsored by Bord Bia.
#GrowCookEat
@giyireland