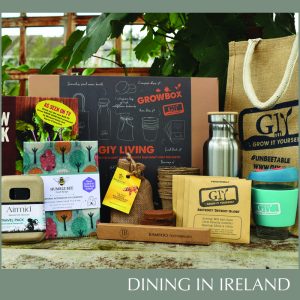 GIY and GROW HQ Founder Mick Kelly shares his top Green Christmas Tips
GIY Founder Michael Kelly is delighted to share that GIY has made all of their online courses available free of charge in a bid to help people during the cost of living crisis and to ensure that actions to tackle climate change remain top of the agenda. Available now at GIY.ie, the selection of online courses will help beginner and experienced growers alike get from plot to plate successfully.
In addition, the green living advocate Michael shares some practical tips for households to enjoy a more ecologically conscious Christmas celebration.
Dinner Time Wins
With commercial Irish vegetable growers continuing to go out of business at an alarming rate, staple Christmas foods are at risk. The problem is a sign of more worrying things to come. With just 1% of Irish farms growing vegetables and increasing risks of global food shortages, there has never been a more important time to grow your own food, and support local growers and other food producers.
As well as the turkey and ham dinner with all of the traditional trimmings, the classic Christmas meal is a celebration of in-season veg. Save some money with a smaller turkey or skip the ham and load up on vegetables from a nearby farmer's market, or seek out Irish produce in your regular supermarket. We all need to make a more conscious effort of buying as locally as possible.
Support your local hospitality business 
Ireland's restaurant industry is also facing a challenging time, grappling with escalating operating costs and many shutting their doors. GROW HQ, the recent winner of RAI's All Ireland Best Sustainable Practices award, strives to operate as a model of a sustainable food system. With a 3-acre garden on site in Waterford City, the café serves up a zero-waste menu with an abundance of organic fruit and vegetables grown footsteps away from customers, with additional food sourced carefully from local suppliers.
According to Michael Kelly: "Despite the cost of living crisis we're facing, lots of money will be spent over the Christmas season and it's a huge opportunity to support both people and the planet. If you're eating out, and there's a big chain restaurant you often go to, consider a smaller, local option where you know you'll be supporting owners directly, as well as the smaller producers they support.
GROW HQ  in Waterford is hosting two special dining events this December – tickets are available for the Festive Supper Club on Dec 16th and 17th at €55 per person.
Top Tree Tips
Michael says, when it comes to the tree, choose a live one. Live trees are a renewable resource and are replanted on tree farms contributing to our air quality and natural ecosystems. "You could also opt for a potted tree for indoors and then enjoy a 'Nature Restoration' activity with the family after Christmas as you plant it outside again and decorate it with seed balls, peanut butter and seed trays – a fun activity for the kids and an important food source for the birds during the long cold days of winter.
Buy Less
All of the food choices we make have an impact on the environment, some more harmful than others. Waste is one of the biggest areas where we can make a difference. A simple change to live more sustainably this Christmas is to simply buy a little bit less. Christmas can often be a time of abundance with households accumulating tonnes of waste. Most likely you will purchase more than you need and items will go off, so it's best to avoid buying in bulk unnecessarily.
New Year's Resolutions for the planet
Get growing. Spring will be here before you know it and January will come with fresh good intentions. It's the perfect opportunity to put some seeds in a stocking or give a GIY GROWBox starter kit or book to an aspiring grower in the family. The GIY Ultimate Starter GROWBox has everything you need to get going on your green journey. It is available from GIY.ie for €39.99.
After making the decision to start growing your own food, begin preparing: while you have downtime over Christmas, start off small and pick what you want to grow and where to grow it. Make sure to factor in how much space you have to work with. While growing food can be done anywhere (on a windowsill/balcony/greenhouse/garden) not all plants require the same amount of space.
Hopefully, more households will be inspired to grow more of their own veggies by learning on our free online courses and for Christmas 2023 we will see more people eating their own homegrown produce.
For free online courses and more growing tips see www.giy.ie