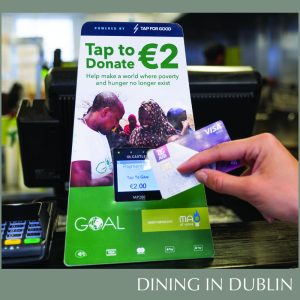 Mao At Home restaurants launch new 'Tap to Donate' innovation to support Irish humanitarian aid agency GOAL
Top Dublin Asian food chain, Mao at Home, has teamed up with Irish humanitarian aid agency, GOAL, to launch an innovative "Tap to Donate" system at its seven Dublin outlets.
The simple technology will make it easier for Mao customers to contribute towards GOAL's work helping the most vulnerable in 13 countries around the world.
The "Tap to Donate" couldn't be simpler. Customers have the option of making 2 Euro donations by tapping their card or phone at a device at a pay point in the Mao at Home outlets.
Ireland is one of Europe's most generous countries when it comes to charitable giving and Mao is already a huge supporter of GOAL's work. It hosted a corporate GOAL Mile last December, with one store alone raising over €1000.
Eamon Sharkey, Global Head of Marketing and Fundraising for GOAL, says:
'We are so grateful to Mao at Home for their continuous support over the years. It is great to have the 'Tap to Donate' units in their increasingly popular restaurants throughout Dublin. This new feature will allow customers to donate to a good cause with minimal effort and help GOAL continue our life-changing work globally. We encourage other businesses to follow Mao's lead and reach out to us about installing the 'Tap to Donate' function in their business.'
Gill Nolan, Senior Marketing Executive with Mao, says:
'We are delighted to support GOAL in the 'Tap to Donate' venture. 'Tapping' is quickly becoming the way most transactions take place, and it's great to see this innovation being used in a clever way to do good. The 'Tap to Donate' devices are now live in all 7 Mao at Home stores, offering our customers a super simple way to donate and offer their support to our charity partner. We really believe in the fantastic projects GOAL implement worldwide and are happy to help in any way we can.'
GOAL is seeking other businesses to become a supporter by simply installing the new service at a pay point in their business. The slimline device is compact and self-contained causing no imposition to the business. It has never been easier to make a difference to those in need worldwide.
For more information on GOAL's work go to www.goalglobal.org