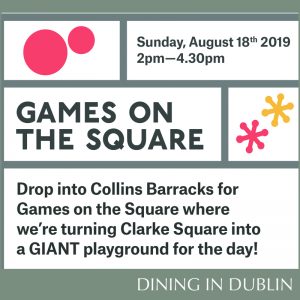 Games on the Square for Heritage Week at the National Museum of Ireland – Decorative Arts & History, Collins Barracks,
Sunday 18th August 2.00pm – 4.30pm
It's Heritage Week (17th – 25th August) and the National Museum of Ireland – Decorative Arts & History is celebrating this year's theme of 'Past Times' Clarke Square at Collins Barracks is being transformed into a giant playground for the day on Sunday 18th August. This free, fun, family event at the Museum includes giant versions of classic games such as Jenga, X's and O's and Connect 4 and will also feature a drop in art workshop led by artist Janine Davidson and a special talk with Alex Ward, Keeper and curator of the Museum's fascinating toy collection.
This open day for all ages is also inspired by the intergenerational public art project and exhibition, Stories Between Us, which brought a group of local primary school students together with older adult learners to explore the theme of 'Past Times' with artist and curator Janine Davidson, who developed a memory box of objects to represent and inspire the telling of stories about the local Dublin 7 area.  Whether you want to find out more about toys from the days before computer games, or get creative in a playful art workshop, or just have fun with giant games, there's fun for all ages, and it's all free!
Ends
The National Museum of Ireland is one of Ireland's premier national cultural institutions, with more than 1.2 million visitors across the four museum sites in 2018. In addition to its vast long-term collection spanning archaeology, decorative arts, history, ethnography, folklife and natural history the Museum is exhibiting a range of exciting temporary exhibitions this year, including Stories Between Us and offering a wide ranging educational and outreach programme.
The theme running through the 2019 programme of events is 'Community' and the Museum's programme of activity for 2019 has been developed with a view to engaging diverse and new audiences. 
About the Stories Between Us Project and exhibition;
On display at the National Museum of Ireland – Decorative Arts & History, Collins Barracks from May – October 2019. 
Stories Between Us is an intergenerational public art project and a collaboration with artist Janine Davidson, Henrietta Street Adult Education, Phibsboro Active Retirement and St Gabriel's National School, D7. The project involved the collection of oral histories on the theme of Pastimes and the games we play, through a series of intergenerational workshops at the Museum. The exhibition showcases some of the objects that sparked the oral histories which visitors can listen to in the participants' own words. The exhibition invites us to make our own connections in remembering and sharing past-times. 
Janine Davidson is a socially engaged artist based in Dublin. An experienced and motivated curator with an international profile. Over the past two decades she has established international networks and developed a career as an arts educator committed to engaging the wider public in visual arts practice in Ireland and abroad. During this period she has worked with many diverse groups and institutions on multifaceted projects and initiatives.