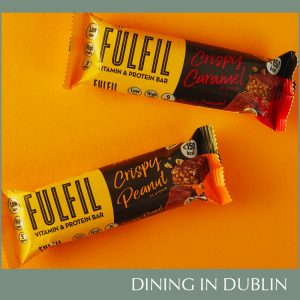 The lite bite comes in two flavours and has all the great benefits FULFIL bars are known for –  low sugar, high protein, 9 vitamins, with less than 150 calories
FULFIL, the popular Irish vitamin and protein bar company, is launching FULFIL Crispy in two delicious flavours, offering snack seekers the perfect lite bite for their morning coffee break or afternoon pick me up.
The bar's crispy and light texture combined with FULFIL's signature moreish milk chocolate flavour to create a healthier on-the-go snack that doesn't compromise on taste. At just 37g, Crispy Caramel and Crispy Peanut are also lighter than the existing range of 11 flavours, making them the perfect coffee break companion.
Speaking about the new range of Crispy bars, Alan Metcalfe, FULFIL's Managing Director, said:
"We know people love the great taste and better-for-you benefits FULFIL bars have to offer, but we always like to innovate! We wanted to develop a lighter bite with a crispy texture that pairs perfectly with coffee, but with all the benefits that make our original bars so unique."
He continued:
"We understand how important those 15 minutes we take during the day for a coffee break are, but we noticed all the snacks on offer seemed to be quite heavy and high in sugar. Instead of a pastry, a muffin or a chocolate bar, could we create a light, tasty treat that delivers that chocolate hit, while still offering all the great benefits that FULFIL bars are famous for? And so, FULFIL Crispy was born."
To celebrate the launch, FULFIL Crispy is partnering with select coffee outlets across the country offering customers a free bar to sample at 11am and 4pm. Head to Mugs Dalkey, Bua Coffee, DASH, Freight Belfast and Box'd Cork to enjoy the new Crispy lite bite.
FULFIL. Life's Wonderfuel. 
For more information visit: www.fulfilnutrition.com or on Instagram @fulfil_nutrition ENDS