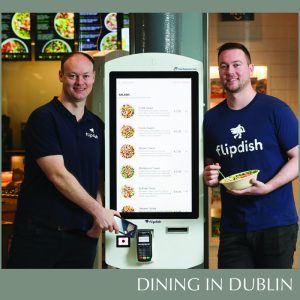 Delivery is key to survival for food businesses during Covid-19 pandemic
Dublin, 18 March 2020 – Flipdish, the Dublin based digital food-ordering solution for independent eateries, has announced the webinar, "Managing your restaurant through the Coronavirus: A Practical Guide", taking place on Friday, March 20th, in response to the growing uncertainty around the restaurant industry during the Covid-19 pandemic.
In these unprecedented times, Flipdish wants to provide food businesses with expert, practical advice on how to manage through the Covid-19 pandemic. The webinar will be hosted by Flipdish co-founders Conor and James McCarthy, and will focus on restaurants that offer delivery and takeaway, as opposed to dine-in restaurants.  Flipdish are dealing with thousands of restaurants and takeaways around the world daily during this crisis, and are learning firsthand the challenges they are facing and the solutions they are implementing.
The Flipdish webinar is free to join, and is being conducted online at 2:30PM GMT on Friday, March 20th, 2020. The webinar can be accessed at flipdish.com/webinars.
Topics include general Covid-19 advice, what the restaurant industry has learned from Spain and Italy, restaurant-specific advice, and how to handle conflicting advice. The session will also include a Q&A.
Conor McCarthy, Co-Founder and CEO of Flipdish stated, "The current situation is forcing near-term and mid-term change to both consumer behaviour and restaurant operations. Being able to adapt and change how your business runs over the upcoming few weeks may mean the difference between survival and failure, which is why we have decided to put on this webinar. We think it will be extremely beneficial to any restaurant who operates a delivery business, or may need to pivot to delivery in these extraordinary times, to take part."
About Flipdish
Flipdish puts restaurants, cafés, and takeaways of all sizes in control of their business growth with a digital ordering and marketing system that builds brands, grows profits and turns customers into regulars.
With a branded website, app or self-service kiosk, powered by Flipdish's world-class technology, restaurant owners can directly accept digital orders without having to list on aggregator platforms, at a lower cost and with more control over the customer experience.
Headquartered in Dublin, Flipdish helps thousands of hospitality brands in 12 countries, including brand leaders such as Chopped, Freshii, Romayos, Base Pizza, Café Sol and Bombay Pantry, working in partnership with them to strengthen their businesses.