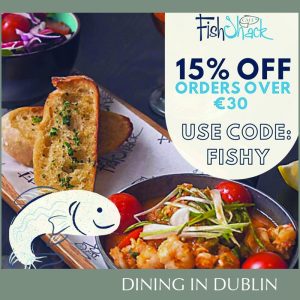 Fish Shack Café started working with Flipdish in mid March to set up their own online ordering system as it was clear to them that they would have to close dine-in services if the situation continued. Flipdish creates white-label online ordering systems for independent food businesses so that they don't have to rely on aggregators (JustEat, Deliveroo) to take orders and connect with their customers. Instead, the ordering system is embedded directly onto the restaurant website: www.fishshack.ie.
Fish Shack Cafe launched their takeaway menu online on the 21st of March and began offering delivery and collection orders to the local areas in which the stores are based; Sandycove, Temple Bar, Malahide. Currently, only the Sandycove store is open due to the pandemic but they are hoping to open the others shortly. It has been an important stream of revenue for Fish Shack Cafe and helped them to continue serving the local community. It has been difficult for all involved but with the right measures put in place, Fish Shack Café have enabled people to continue ordering top-class seafood to enjoy in the safety of their homes!
Fish Shack also work with Flipdish marketing to run ads and promote their online menu. This helps them to reach new customers and stay ahead of the competition. Fish Shack Café and Flipdish have formed an important partnership which allows FishShack to grow their business all under their own brand.