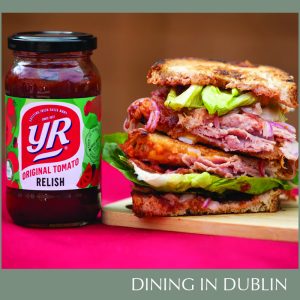 YR is set to liven up the relish market with a totally new gourmet range, as well as a saucy makeover for its original YR Sauce recipe and iconic packaging design.
Celebrity chef, party maker and sandwich king of The Sambo Ambo fame, Marcus O'Laoire, launched the delicious new relish range at an event in Dinetown in The Iveagh Market in Dublin this month.
YR Sauce is renowned for its sweet blended date recipe and exotic spices that have delighted generations of Irish families for years, both as a tasty condiment for hot and cold meals and a flavoursome cooking ingredient.
Now the popular Irish brand has brought the YR taste experience to a whole new level with the launch of three delicious new relish flavours.  YR Original Tomato Relish, YR Balsamic Red Onion Relish and YR Habanero Spicy Relish will be available instore this month, and via wholesale and cash & carry channels, in a handy 390g jar format.
Packed with the best quality tasty ingredients, the new relishes are made here in Ireland to three healthy original recipes.  They will appeal to the health-conscious consumer and to families, as they are gluten free and vegan and vegetarian friendly.  The new YR relish can be used within 6 months, once opened, so there's no food waste with this cupboard staple either, compared to other brands with much shorter use-by dates.
YR is also a proud member of Love Irish Foods, supporting Irish brands and the Irish economy.
The relish category is valued at €6.4 million annually in Ireland and, while up to 30 separate  brands are active in this growing space, YR is now investing substantially to grow its market-share and position as a top Irish brand in the category.
A robust consumer marketing plan including national advertising, a social media campaign, brand ambassadors, consumer recipes, food festivals and instore sampling is in place for a late summer and autumn launch, to build awareness and engagement with consumers around the innovative new YR relish range – once you taste it YR hooked!!
Strong Marketing
Strong marketing investment and a premium new product offering will drive growth in the relish category, according to Sean McNaughten, Managing Director of Primeline Sales and Marketing, who own and distribute the iconic YR brand.
"The YR brand is a trusted consumer offering and this range extension brings the same quality product attributes in an exciting new relish collection.  Retailers will enjoy strong sales potential, thanks to proactive consumer marketing that is designed to grow the existing loyal customer base that this much-loved Irish brand leader has established over generations", Sean McNaughten says.
YR Sauce has worked with leading food consultants to develop its new relish collection, using the best ingredients, flavours and with a keen eye on the health claims, according to Marketing Manager, Elaine Byrne.
"As an iconic 1837 heritage brand, YR Sauce has evolved with the times and with consumer tastes.   The Primeline team is delighted to introduce this great tasting YR Relish selection that makes for a tasty burger, sandwich, cheese board or salad accompaniment, and is a great store cupboard staple and recipe ingredient too."
The three new YR relishes are guaranteed to excite tastebuds.  YR Original Tomato Relish has a subtle hint of the date purée taste associated with the original YR Sauce flavour, while YR Balsamic Red Onion Relish is sweet and tangy, and YR Habanero Spicy Relish is an exotic new flavour that is great as a dip with tortilla crisps, to spice up a party or a night in.
New Look YR
Sustainable sourcing of local ingredients, premier food technology, and investment in product development and marketing that reflects consumer trends has combined to create the new YR relish range from this trusted heritage brand, Sean McNaughten of Primeline Sales and Marketing says.
"We are building on the longstanding market appeal of the YR brand.  As well as a new relish offering, Primeline has refreshed the YR Sauce packaging presentation too, and also drawn on expert culinary advice to refine our brown sauce ingredients, while retaining the award-winning taste", the Primeline Managing Director explains.
As with the new relish range, Original YR Sauce now boasts a completely gluten-free recipe and is vegan and vegetarian friendly too, so it meets contemporary dietary requirements, while maintaining its high-quality standards and premium ingredients.
For more information on this exciting new product launch, contact a local Primeline sales rep, or reach the company on the number below.