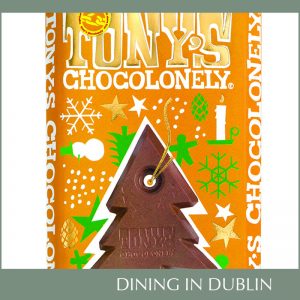 TONY'S CHOCOLONELY CHAMPIONS SLAVE-FREE CHOCOLATE AND NOW LAUNCHES ITS NEW FLAVOURS ACROSS IRISH RETAILERS FOR CHRISTMAS 
Tony's Chocolonely have brought out some tasty new flavours for chocolate lovers with a conscience: Dark Mint Candy Cane 51% (vegan) & Milk Chocolate Gingerbread 32%.
The two new bars come in bright festive wrappers and are made with Belgian Fairtrade chocolate. The Milk Chocolate Gingerbread Bar is packed with spiced gingerbread cookie pieces and the Dark Candy Cane bar is decked out with minty candy pieces and is dairy free for vegan Tony's fans. Both bars have a decorative Christmas tree shape that pops out, so you can even hang it on your Christmas Tree as a decoration.
The bars are an ideal stocking filler for the ethically minded, as Tony's is on a mission to make all chocolate 100% slave free.
Bars are available in stores around the country now, RRP €3.98. Irish retailers selling the new flavours include:
Supervalu
Brown Thomas
Earthmother.ie
Fresh
The products are free from palm oil and plastic and come in fully recyclable packaging.
About Tony's Chocolonely:
Tony's Chocolonely are the chocolate makers on a serious mission to end slavery in the chocolate industry. There are currently 2.1 million children working illegally and at least 30,000 instances of modern slavery on cocoa farms in Ghana and Ivory Coast where 60% of the world's cocoa comes from. 
Tony's Chocolonely is a B-Corp, Fairtrade certified impact company going beyond certifications to make chocolate 100% slave free. Not just their own chocolate, but all chocolate worldwide. 
The company was founded in 2005 by three journalists from the Dutch TV show 'Keuringsdienst van Waarde' after they discovered that the world's largest chocolate manufacturers were buying cocoa from plantations that used illegal child labour and modern slavery. 
Since then Tony's Chocolonely has dedicated their efforts to raising awareness about inequality in the chocolate industry. They lead by example, building direct long-term relationships with cocoa farmers in Ghana and Ivory Coast, paying them a higher price and working together to solve the underlying causes of modern slavery. 
Tony's Chocolonely wants to inspire the industry as a whole to make 100% slave free the norm in chocolate. They have grown to become the largest chocolate brand in the Netherlands and their bars are now available almost worldwide, with offices in the Netherlands, USA, the UK and Germany (DACH).  

Website:
https://www.tonyschocolonely.com/ 
Follow Tony's Chocolonely: