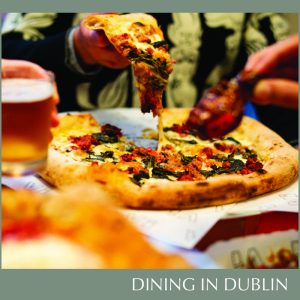 Your Favourite Sourdough Pizza with Elevated Crusts & Seriously Saucy Wings
Now open at 5 Merrion Street Lower, D02 DR94
Let me introduce you to Vice, the brainchild of restaurateur Bobby Lawn. Vice is the science of sourdough and the art of pairing pizza and wings together, for sitting in or taking out.
Located on Merrion St, Vice is a concept that brings two beloved takeaway foods together, pizza & chicken wings, created side by side on an artisan production line. It's all about elevated sourdough crusts and sublime sauces paired with delectable free range wings.
Bobby Lawn (Etto, Osteria Lucio, Pichet) had a moment of clarity a couple of years ago while visiting family in Buffalo, New York. After enjoying the pairing of pizza and wings, it occurred to him that both foods were destined to be enjoyed together; however the pairing didn't quite exist as an offering in Ireland. After an all encompassing research and development period and a collaboration with the head chef at Anchor Bar in Buffalo, New York, the concept of Vice was born.
So what is Vice? It's an elevated approach to familiar favourites; a place for people to choose their sourdough crust finishes (Honey, White Sesame, **Everything Bagel Crust**) and custom combine their wing sauces (Lemon Pepper, Buffalo, Gochujang).
With chef driven recipes and a factory floor efficiency at the heart of the menu, Vice Pizza delivers elevated sourdough crusts; big fluffy unapologetic pockets of air, finished with a choice of honey, poppy seeds, toasted black and white sesame seeds, dried garlic, onion or salt, known as the "Everything Bagel Crust". Sourdough bases are patiently made in a time-honoured way, using a sourdough leaven starter. Embracing the rising power of wild yeast, it's an object of beauty and craft. Not to mention good for the gut.
Toppings are equally as impressive with fennel sprinkled cheese, chilli infused pineapple and pickled red onion all featuring. Sauces can be mixed and matched to suit your mood. If you fancy buffalo and BBQ tossed together to form your base, then no problem.
Vice dips are key players in the offering. Try the mouth-watering Garlic Parm, indulgent Dill Buttermilk Ranch, moreish Gochujang Mayo or creamy Blue Cheese.
Vice Wings: Buffalo and BBQ wings will feature alongside Gochujang, Spiced BBQ and the already much loved Lemon Pepper wings. Crispy, succulent and tender.
Vice will transition from pizza and wing shop by day, to a vibrant neighbourhood haunt at night.
It will be the perfect place to grab a bite before a gig, or feed the gang at home. It's a date spot and a mate spot. In house or in the park.
The Vice world was created by Jordan Ralph and Bobby Lawn. They collaborated from an early stage to develop the look and feel of Vice's interiors and identity, imbuing the brand with its own story, pulling from the worlds of factory production lines and modern art galleries.
Vice is open 7 days a week and is set to open its doors at 5 Merrion St Lower.
Delivery is available now via Vice Dublin (coming soon), Deliveroo and JustEat.
Follow Vice on Instagram and TikTok