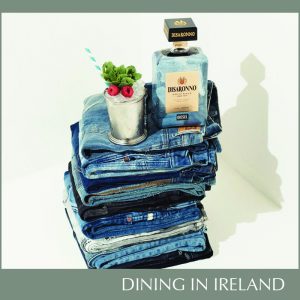 The 2019 Limited Edition sports an interpretation of the iconic denim label's signature and will be launched in Ireland with a weekend-long in-store event at the Diesel boutique in the Kildare Village from 11-13 October.
Ireland – 25 September 2019 – Disaronno® will host a weekend-long event at Kildare Village from 11-13 October. Shoppers at the exclusive shopping destination will be invited to view a beautiful installation celebrating the partnership and try the delicious "Disaronno wears Diesel" cocktail at Ireland's only Diesel store.
"Disaronno wears Diesel" is a Limited Edition bottle run, with a bold, ironic style that shows Disaronno's instantly recognisable logo wrapped in an eye-grabbing camouflage denim pattern (denim is Diesel's signature textile).
The design reflects the shared approaches of the two brands: both are world-renowned, Italy-based companies that share a strong focus on promoting creativity and originality. Diesel is an internationally recognised house, always on the cutting-edge—not just in terms of its immense product offering, but also in regard to social initiatives, branding efforts, and progressive thinking. Disaronno complements this ethos, by consistently delivering an original taste and a unique flavor that appeals to multi-generational mixology fans across the map.
"Every year, the announcement of the Disaronno Limited Edition is an important international occasion, which we always look forward to. This year, the Disaronno bottle, with its unmistakable shape, takes on an unexpected look full of character. It is the perfect blend of Italian style and modernity," says Augusto Reina, CEO of Illva Saronno Holding.
#disaronnowearsdiesel is the star of the seventh edition of the Disaronno® Icon project, which involves teaming up with leading Italian designer labels every year.
Through this project, Disaronno supports the OTB Foundation, Diesel's parent company's philanthropic arm, fully embracing its motto of "Brave Actions for a Better World." In Italy and at a global level, the Foundation is involved in social initiatives focusing on three principles: sustainability, innovation and direct social impact.
Visitors to Kildare Village from 11-13 October can avail of a delicious complementary Disaronno cocktail between 2-4pm on Friday and 1-3pm on Saturday and Sunday.
Note1: source IWSR 2018 – International Wine & Spirits Research
DISARONNO WEARS DIESEL COCKTAIL
INGREDIENTS:
50 ml Disaronno
20 ml Jamaica Rum overproof
30 ml Lime Juice
20 ml Passion Fruit syrup
8 Mint leaves
Crushed Ice
GARNISH:
Mint sprig and raspberry
DISARONNO®
Disaronno is the world's favourite Italian liqueur. Featuring an original taste and unmistakable aroma, it stands out on the world stage with distribution in more than 160 countries. The Disaronno bottle has a unique design and a cap, which lends elegance and modernity, embellished with a golden label that enhances its contemporary style. Disaronno is a pleasure to enjoy on the rocks as well as in its various mixed drinks, including the Disaronno Sour. Recognisable and versatile, it makes every cocktail one of a kind.
https://www.facebook.com/Disaronno
https://www.instagram.com/disaronno_official/
DIESEL
Diesel is an innovative international lifestyle brand, producing a wide-ranging collection of jeans, clothing and accessories. Since its creation in 1978, Diesel has evolved from being a leading pioneer in denim into premium casual wear brand, becoming a true alternative to the established luxury market. Despite its growth, Diesel's philosophy has remained the same: a brand standing for passion, individuality and self-expression.
KILDARE VILLAGE
For a great day out, nestled within landscaped grounds and presented in an authentic village environment, Kildare Village is the perfect luxury shopping destination. A morning or afternoon spent browsing 100 exclusive brands offering luxury for less in a chic and casual open-air environment is truly time well spent. Kildare Village is one of the Collection of nine The Bicester Village Shopping Collection Villages by Value Retail.
www.instagram.com/kildarevillage
Drink Disaronno responsibly.