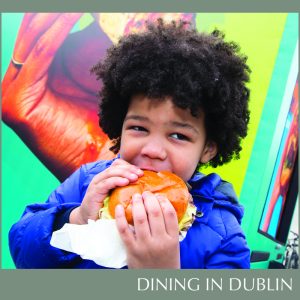 Artificial Intelligence good enough to eat: The food delivery giant Deliveroo descended upon Dublin's City Centre today, to mark their 4th birthday in Ireland. With a world first of Edible Intelligence, intrigued and hungry passers-by interacted with Deliveroo's latest food innovation to receive delicious treats from local favourites, Sano Pizza and Smokin' Bones. Since Deliveroo's arrival in Ireland, the company now works with over 800 Irish restaurants.
About Deliveroo
Deliveroo is an award-winning delivery service founded in 2013 by William Shu and Greg Orlowski. Deliveroo works with over 80,000 best-loved restaurants and takeaways, as well as 60,000 riders to provide the best food delivery experience in the world.  Deliveroo is headquartered in London, with 2,500 employees in offices around the globe.
Deliveroo operates in over 500 towns and cities across 14 markets, including Australia,  Belgium, France, Germany, Hong Kong, Italy, Ireland, Netherlands, Singapore, Spain, Taiwan, United Arab Emirates, Kuwait and the United Kingdom.