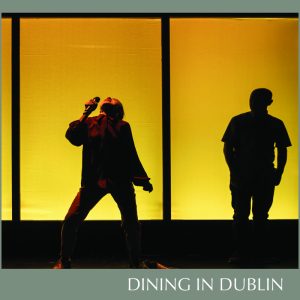 "Who is it that can tell me who I am?"
― King Lear, Act I Scene IV
Presented by Dublin Theatre Festival – 26th September – 9th October, Project Arts Centre.
Mermaid Arts Centre – 13th – 15th October
Following the national and international tour of A Very Old Man with Enormous Wings, Dan Colley and his company have turned their sights on a very (very) loose adaptation of King Lear, examining the self and that part of us that's inaccessible to others. The show will officially open in Project Arts Centre as part of Dublin Theatre Festival from 26 September to 9 October 2022, with additional dates at Mermaid Arts Centre post-festival.
The world premiere at Project Arts Centre is presented by Dublin Theatre Festival, now booking dublintheatrefestival.ie/programme/event/lost-lear /+353 1 677 8899
Fast-paced and thought-provoking, Lost Lear lands us into the world of Joy (Venetia Bowe), a woman with dementia, who is being cared for through a method where people live inside an old memory.
Co-produced by Mermaid Arts Centre and Riverbank Arts Centre. Funded by the Arts Council of Ireland and supported by Fishamble's New Play Clinic.
Cast: Venetia Bowe; Peter Daly; Manus Halligan
Directed by Dan Colley
Composed by Daniel McAuley
Set Design: Andrew Clancy
Lighting Design: Suzie Cummins
Costume Design: Cherie White
Sound Design: Kevin Gleeson
AV Design: Ross Ryder
'Riverbank Arts Centre is thrilled to support Lost Lear, an ambitious new production directed by Dan Colley and featuring an ensemble of exceptional theatre artists. A multi annual residency, funded by the Arts Council and Kildare County Council, has enabled Riverbank to support the development of Lost Lear and two other new works by Dan Colley and collaborators. We are proud and delighted that Kildare audiences will have an opportunity to have a first glimpse of Lost Lear, before its premiere at Dublin Theatre Festival.' – Caroline Williams Venue Manager
'Lost Lear' is about two people trying to connect over a gradually widening chasm that dementia opens up. It uses innovative theatre technology to distort our perceptions of reality and explore 'King Lear's' themes of reconciliation and the mercurial nature of the truth. Our adaptation focuses on the heartbreaking family drama of 'Lear' that has a lot to offer our dislocated times in which sometimes the people closest to us, seem to live in completely different realities. It is essentially a play about two people who are trying, and mostly failing, to talk to each other.'' – Dan Colley, director
Listings Details
14+
Project Arts Centre, Dublin Theatre Festival, 26th – 9th October
Mermaid Arts Centre, 13th – 15th October