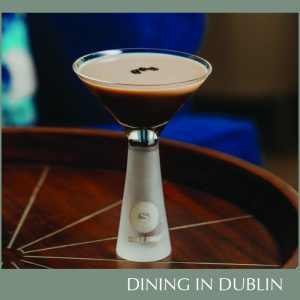 Ingredients: 
25ml Vodka 
75ml Coffee Liqueur 
75-100ml Coole Swan 
Method: 
Put the coffee liqueur and the vodka into a shaker full of ice and shake for 10-15 seconds. 
Pour into a cocktail glass. 
Pour the Coole Swan on top of the coffee mix over the back of a spoon to create a layer. 
Serve and enjoy! 
The Story Behind the Espresso Martini 
The Espresso Martini has a recent history compared to many other cocktails. It was created in the early 1980s by Dick Bradsell and has since skyrocketed in popularity. The Coole Swan Espresso Martini looks just as dramatic as the classic Espresso Martini, however, upon closer inspection the foam top is replaced with the velvety smooth Irish Cream Liqueur. 
Coole Swan Irish Cream Liqueur. No. 1 Liqueur in the World.
It is easy to list the ingredients of Coole Swan – there are only ever three; Single Malt Irish Whiskey, the finest Belgian White Chocolate, and Irish dairy cream. It's a little harder to describe the beauty of the blend, and the flavours and textures that result when all three come together in one glass. The subtle warmth of the whiskey underscores the richness of the chocolate, and both combine with the smoothness and freshness of the cream. It's delicious.
In 2020, Wine Enthusiast Magazine named it the number one cream liqueur in the world. Awarding it 96 points out of 100, they called it "the pinnacle of quality".
No other cream liqueur has ever achieved this 'legendary' status.
Visit us here to learn more: