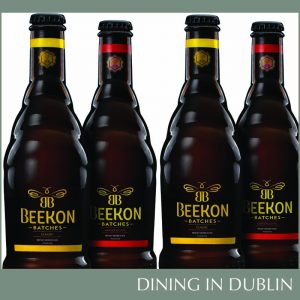 22.05.19: We at BEEKON have developed a new refreshing honey based alcoholic drink, which has just buzzed its way to Ireland this week. Inspired by the work of the humble bee, we've lovingly produced BEEKON, known as a 'honey refresher', which contains only honey, water and yeast. BEEKON offers a perfect alternative to those looking for a drink with wholesome ingredients, no nasty additives, sulphites, sulphates or colourants.
Produced right here in Ireland, BEEKON comes in an innovative stylish bottle which is inspired by the shape of the beehive which is where our trusty bee friends conduct their honey making business.
A 'honey refresher' is a brand new alcohol category which is unique in its production and taste. In developing the brand, our founder, Karen O'Neill,  noted the dynamic nature of the bees and the impact they have on the world through collaboration and hard work.
She wanted to create a drink that paid homage to the bees and their precious output, honey. After much research into the life of the bee, BEEKON came to BEE. The name, like the thinking, is based on the idea of collaboration between the BEES and its founder  Karen O'Neill (KON).
Taking our lead from the bees, BEEKON create the most natural products possible through simple production methods and fresh ingredients.
We at BEEKON recognise that people are looking for lower ABV and healthier alternatives to wine and beer.  BEEKON is a lightly carbonated alternative, available at 5% alcohol and in two flavours. Classic BEEKON contains Argentinian wildflower honey. For the ginger lovers amongst us, there is Ginger and Lime flavour BEEKON. Both drinks are flavoursome and fresh in taste, providing crisp refreshment through the combination of tasting notes.
Speaking about our new product, founder Karen O'Neill said; 'I have nearly twenty years' experience in the global drinks industry. Down through the years, I have recognised the need for change. People no longer consume products blindly, they want to know they are being good to themselves while also making a positive contribution to the world around them. Eating and drinking has become a huge part of this process. BEEKON offers an alternative to those who want to experience great taste in the most natural way possible.'
She continued 'At BEEKON, we're inspired by the work of bees and their bee-haviour. They work hard as a collective to produce the best natural product possible. We want to do the same at BEEKON, with bees helping us along the way to produce the best drink possible with their very own ingredient, honey'.
For the ultimate refreshment and taste experience, soak up the sunset whilst savouring a BEEKON with good friends, on a rooftop terrace or in a buzzing beer garden, best enjoyed chilled, over ice.
BEEKON is available now in select bars and hotels across Dublin & Belfast.
BEEKON – Time to get refreshed.
For more details visit www.Beekonbatches.com
Instagram: @beekonbatches
Facebook: www.facebook.com/BeekonBatches