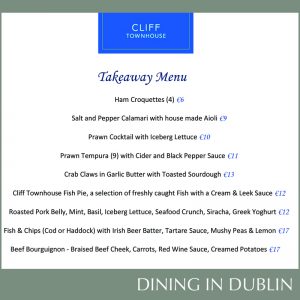 Our Takeaway menu is comprised of our Head Chef, Sean Smith's most popular, homely dishes; please see attached a copy of the menu.
We are also offering a limited beverage menu including wine/beer & soft drinks.
Our takeaway menu is available on Friday & Saturday from 5pm – 9pm and on Sunday from 3pm – 8pm. Order & payment are taken over the phone and a member of our team (wearing gloves of course) will place the takeaway the guest's boot.. meaning the service is 100% contactless.
We do also offer a local delivery service which is prices at €10 (subject to change depending on the delivery address of the guest)
Orders can be placed by calling 01  638 3939 or by emailing info@clifftownhouse.ie
Menu
Ham Croquettes (4) €6
Salt and Pepper Calamari with house made Aioli €9
Prawn Cocktail with Iceberg Lettuce €10
Prawn Tempura (9) with Cider and Black Pepper Sauce €11
Crab Claws in Garlic Butter with Toasted Sourdough €13
Cliff Townhouse Fish Pie, a selection of freshly caught Fish with a Cream & Leek Sauce €12
Roasted Pork Belly, Mint, Basil, Iceberg Lettuce, Seafood Crunch, Siracha, Greek Yoghurt €12
Fish & Chips (Cod or Haddock) with Irish Beer Batter, Tartare Sauce, Mushy Peas & Lemon €17
Beef Bourguignon – Braised Beef Cheek, Carrots, Red Wine Sauce, Creamed Potatoes €17
Sides
Chips €3.50
House made Aioli dip €1
House made Tartare Sauce €1
Desserts
Rhubarb Crumble with Custard €6
Chocolate Brownie with Cream €6
Wine & Drinks
White Wine – 2017 Cliff by Cantina Tollo, Trebbiano di Abruzzo, Italy €17 per bottle
Red Wine – 2017 Cliff by Cantina Tollo, Montepulciano di Abruzzo, Italy €17 per bottle
Beer and other soft drinks available