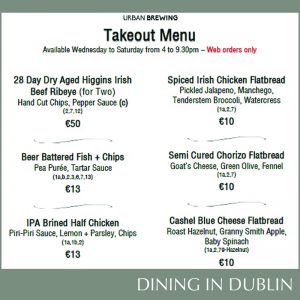 We are running a food and drinks collection service. We have consulted our local EHO and are fully compliant with HSE and Government COVID-19 guidelines .
You can order online for pick up at the designated spot in front of our premises.
· Minimum order €20.00
· Please allow 25 minutes from time of order confirmation. You will receive a text or email 10 minutes before your order is ready for collection.
· Over 18s only (please bring ID).
· Operating times:
Food: Wed – Sat: 4pm to 9.30pm
Drinks: Tue – Sat: 1pm to 9.30pm. – Drinks orders placed outside of these hours will be ready for collection the following day (within the weekdays specified)
· Please ensure that a correct mobile number and detailed dietary requirements are sent with the order
· If any of your favourite drinks are not listed, or if you have any queries, contact us on welcome@urbanbrewing.ie