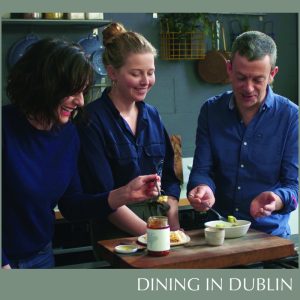 The third episode of series 3 of 'GROW COOK EAT' is set to air on Wednesday, April 1st and presenter duo founder of GIY Michael Kelly and the GIY Head of Community Development Karen O'Donohoe.
During the programme which will air on RTE 1, Michael and Karen get growing Cucumber. Michael is feeling cool as a cucumber with his well-rehearsed veg trivia, new polytunnels and boy scout knowledge for cucumber growing. While there's more to it than the veg grown in earlier episodes, Karen shows how this prolific plant can also be grown outdoors in Container Corner, alongside some miniature cucumelons.
Karen then heads to Wicklow to take inspiration from the commercial operation at O'Hanlon Herbs who have been working with fresh herbs for 30 years and are moving to 100% compostable packaging. Dubliner with no farming or nursery-keeping background, Tom O'Hanlon stood out among his peers studying horticulture at Warrenstown College in Co Meath and his business now supplies the biggest supermarkets across Ireland.
Meanwhile, GROW HQ becomes the hub for Chefs' Manifesto in Ireland – an international initiative bringing chefs together to help implement the UN Sustainable Development Goals (SDG) for 2030. While it involves seventeen goals related to food, a stronger focus is placed on ending world hunger. To launch the initiative, food "waste" from across Waterford is diverted to GROW HQ's kitchen to create a uniquely inspiring dining experience. 0 diners enjoy a meal created entirely from food waste by Grow HQ head chef JB Dubois and Chef's Manifesto Ambassador Conor Spacey.
Chef's Manifesto gives chefs the tools to focus on eight thematic areas, including ingredients grown with respect for the earth and its oceans, protection of biodiversity and animal welfare, reducing waste, a celebration of local, seasonal food and making nutritious food accessible and affordable to all.
And fresh from the garden into the kitchen when the cucumbers are ready for harvest, Chef Katie Sanderson is ready with her skillet, to smash them up into a stunning cucumber pickle.
'GROW COOK EAT' is a very practical series, aimed at helping people with little or no knowledge of growing their own food. As well as the step-by-step guides to growing vegetables, the series showcases features on water harvesting and improving soil fertility.
The show is anchored at the home of GIY, at Grow HQ in Waterford City and each week the TV show also sees presenters Michael Kelly and Karen O'Donohoe travel to meet and visit expert food producers, chefs, and community food growing projects all across the country, plus delicious menu ideas will be shared weekly by Chef Katie Sanderson.
GROW COOK EAT airs each Wednesday evening at 7.30 pm on RTE until April 24th; the show is sponsored by Bord Bia and StopFoodWaste.ie. For further details, the veg growing guides, lots of extra recipes and more info on each episode visit http://growcookeat.ie/

#GrowCookEat
@giyireland