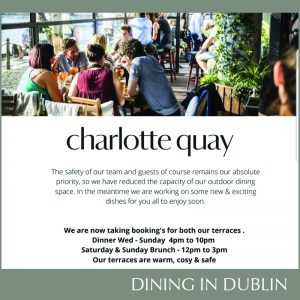 We have worked very hard over the last few months to create a safe & comfortable dining experience for all our customers.
Charlotte Quay
We have updated our opening hours in Charlotte Quay during these times and have added some tasty new dishes to our menu.
You can make a reservation by calling the restaurant directly on 01 908 9490 and you can view our menu online
www.charlottequay.ie
Our indoor dining space will remain closed as per the guidelines, thankfully our two terraces will remain open! 
We look forward to seeing you all down the dock
While we have had to close our indoor dining, we are extremely lucky to have outdoor space to enjoy comfortably and safely.
There are limited spaces so please email us on 
info@coppingerrow.com
to book your table or simply chance it and walk in!
Thurs 5-10pm
Fri 1-10pm
Sat 12-10pm
Sun 12-4pm
2/3 Coppinger Row,
Dublin 2