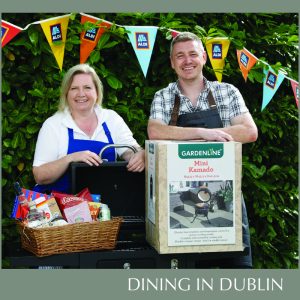 Sarah Lyle from Dublin takes the title of Ireland's Hottest Grill Master! 
Following a nationwide callout and a smoking hot live final, the search for Ireland's Hottest Grill Master is complete. The coveted title has been awarded to the worthy winner Sarah Lyle, from Co. Dublin.
Earlier this summer, to celebrate the arrival of BBQ season, ALDI called on the people of Ireland to nominate family and friends and explain why they should be crowned Ireland's Hottest Grill Master. With the title at steak and serious prizes up for grabs, ALDI was inundated with entries from BBQ enthusiasts all over Ireland.
After much deliberation (and a lot of eating!), Sarah Lyle from Co. Dublin was named the winner. Not only did she walk away with the title of Ireland's Hottest Grill Master, but she also received an ALDI Egg BBQ, a summer hamper, and a €5,000 ALDI gift card! The four runners-up each received a €250 ALDI gift card and an ALDI hamper.
Speaking about her win, Sarah Lyle, said: "I am beyond thrilled to be named Ireland's Hottest Grill Master! It was an honour to be invited to take part in the final, meet my fellow competitors and a real treat to be chosen as the winner because I've been a BBQ lover for years! To walk away with the title and these fabulous prizes is the cherry on top of what has been a fantastic experience. I look forward to putting my brand-new Kamado BBQ to work and treating my family and friends to a delicious BBQ spread featuring all our favourite ALDI Bord Bia Assured meats."
ALDI enlisted Chef, BBQ extraordinaire John Relihan as Head Judge for the competition. John has a wealth of experience working in award-winning restaurants, including Jamie Oliver's famed Barbacoa restaurant in London, his current role in Pitt Bro's Restaurant in Dublin City Centre, and host of his own Fire cooking experience Twelve Fires. John is widely regarded as one of Ireland's top fire cooking experts so there was no better man for the role. He was joined by David Evans, Buying Director with ALDI Ireland, to oversee the competition and pick one lucky winner.
Speaking about standard of entries for Ireland's Hottest Grill Master, BBQ Chef John Relihan said: "I was blown away by the skills each of the finalists showed. The choice of ALDI Irish meats, garnishing's and their technique of cooking was second to none and each finalist really embraced the art of fire cooking. Ultimately Sarah's Hot Smoke Salmon dish won out with the main ingredient being the Skellig Bay Fillets for €3.99 in ALDI."
Such was the standard of the entries, that John had his work cut out for him! The five finalists selected to showcase their BBQ skills in the live head-to-head final in ALDI's Head Office in Naas, Co. Kildare were:
John McLoughlin, Co Tipperary: With a love of both the outdoors and home cooking, it's little surprise that John, who now lives in Dublin, is a BBQ aficionado! He loves nothing more than firing up the grill and entertaining family and friends in the garden with quality meats like ALDI's Specially Selected 32 Days Aged Matured Irish Black Angus Striploin €9.49 served with his own signature sides, including Hasselback potatoes and grilled vegetable kebabs. Fish, beef burgers, sausages, and chicken feature on a weekly basis but steak from his local ALDI is his number one go-to BBQ dish. 
Sarah Lyle, Co. Dublin: Sarah was first introduced to the idea of cooking over fire through her parents, who would celebrate Orthodox Easter with their Greek friends by cooking a whole lamb over charcoal! While she has yet to give that particular dish a go, Sarah says lockdown gave her the opportunity to use her ALDI smoker BBQ and refine her BBQ repertoire. Sarah has three BBQs at home in the back garden, and after being crowned Ireland's Hottest Grill Master will be adding a fourth! When it comes to buying BBQ-ready meat like fresh chicken, Irish beef burgers or Irish Black Angus steak, ALDI is always her first port of call. Sarah's winning recipe centered around stunning Skellig Bay Fresh Salmon Fillets €3.99 from ALDI.
Matt Kenny, Co Tipperary: As soon as the sun pokes its head out, Matt is straight out with the BBQ. The 67-year-old Tipperary resident loves nothing more than inviting his family around and treating them to a BBQ feast – especially grandchildren Georgia and Willow who love Matt's chicken drumsticks! Matt was nominated for the competition by his son and was also joined for the live final by his granddaughter! He does all of his BBQ buying in ALDI and his must-have meats are Irish Angus beef burgers, sirloin steaks, chicken wings and drumsticks.
Simon Carolan, Co. Dublin: Simon first developed a taste for all things BBQ while holidaying in Wexford as a child and cooking potatoes over a campfire. As an adult, he graduated to a brick-built open grill BBQ as well as a state-of-the-art smoker BBQ purchased in ALDI. Simon used lockdown to help hone his BBQ skills and emerged a bona fide BBQ master. A loyal ALDI customer, he always has a packet of Black Angus Rib Steak Burgers on standby in the fridge for a quick BBQ dinner! 
Mairéad Fitzpatrick, Co. Cork: Máiréad, who now lives in Dublin, fell in love with BBQ while living in China. She loved the simplicity of the Chinese method of finely slicing ingredients and cooking them quickly and soon incorporated it into her own cooking. Nowadays, she treats family and friends to Chinese BBQ with a European twist as often as the weather allows. Her favourite thing about BBQing? The fact that you don't need any special ingredients or complicated recipes – just grab whatever you have in the fridge and simply slice, skewer, grill and serve among great company!
The competition may have concluded but BBQ season is still in session! When it comes to preparing your own BBQ banquet this summer, there's no better place to shop than your local ALDI! It's home to an unbeatable selection of Bord Bia Quality Assured 100% Irish meats including Irish beef burgers, succulent steaks, tasty chicken, delicious lamb and more – everything you need to make your BBQ sizzle this summer.
And who knows? Maybe you can take on the challenge to become Ireland's Hottest Grill Master next summer!