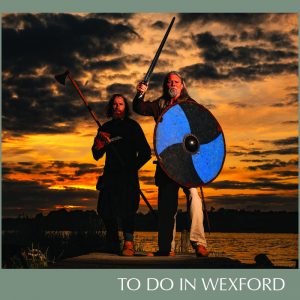 Brand New Viking Fire Festival Announced
A brand new epic festival is set to take place in Wexford town on Saturday, September 28th. The first annual Viking Fire Festival will be hosted on Wexford's quayside by the Irish National Heritage Park.
The historical Wexford town will be transformed back to Viking times, as the Wexford Quayside will be turned into a real-life Viking Village hosting an immersive experience akin to life over a thousand years ago. The ancient settlement will be populated throughout the day with a host of re-enactors who will be going about their day-to-day life as if it was 900AD and offering visitors the opportunity to enjoy storytelling, a Viking market, coin striking, spinning, weaving, leatherworking, metalwork and woodwork, with some Viking music performances and even the chance to participate in some slave trading.
The Vikings founded Wexford town sometime before 900AD when they first settled and the street layout today can be attributed to these early settlers. Those same streets will see the Vikings maraud through the town once again on the evening of Saturday, September 28th as a Viking Parade will be led by the Bloco Garman Drummers as they descend onto the Wexford Quayside where the festival will culminate in a spectacular Inferno Fire Show. The fire show will be performed by Ireland's most skilled fire performers, as they present their most popular production, Firestorm, a show of enchanting light and shadow, skill and choreography. Inferno is an intense blazing experience.
Alongside the real-life Viking Village, a Viking Treasure Hunt, Viking Talks and Children's Storytelling plus a Craft Beer and Food Market will all be on offer to visitors throughout the day.
Speaking at the launch of the festival General Manager at the Irish National Heritage Park and festival organiser Maura Bell says, "We are very excited to announce details of the first Viking Fire Festival. This is set to be a spectacular event celebrating our unique heritage and offering locals and visitors alike an incredible visual spectacle with an Inferno Fire Show, this is an event 'not to be missed'. Access to the Viking Town, the Viking parade and the Inferno Fire Show on Wexford's quayside will also be free of charge offering a brilliant opportunity for a peak in visitor numbers between the busy summer period in Wexford and in advance of the annual Wexford Festival Opera and the Fringe Festival.
This is the inaugural event and we have great ambitions for this festival to grow each year for many years to come."
For further details on the new Viking Fire Festival see www.irishheritage.ie/special-events/
IMAGE:
Pictured in Wexford are 'Viking's John Cox and Gavan Murphy announcing the details of the inaugural Viking Fire Festival which will take place in Wexford town on September 28th 2019. Events taking place at the festival are available to visitors free of charge, for further details see www.irishheritage.ie/special-events/ PHOTOGRAPHER: Patrick Browne – 086 251 5700 – pjbrownephotography@gmail.com