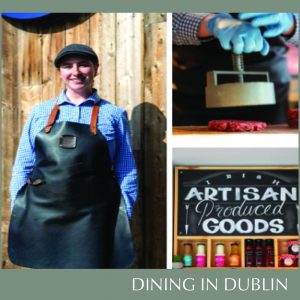 As evenings get longer and entertaining moves al fresco, elevate your barbecue with a wide offering of artisan meats and poultry from family-run craft butcher, The Village Butcher Ranelagh, now delivering nationwide.
Gourmet burgers handmade in-house using recipes exclusive to The Village Butcher include Angus steak burgers; ribeye burgers; pork, chorizo and apple burgers; Angus short rib and Monterey Jack cheese burgers; Belted Galloway burgers with smoked Applewood cheese; Dexter burgers with bone marrow; and Irish Wagyu burgers.
The sausage, a barbecuestaple, gets an upgrade at The Village Butcher with a range made from scratch using no additives or fillers, no preservatives or sulphites, just fresh ingredients and natural skins. Customer favourites include Boerewors; Italian chilli and fennel; cheddar, jalapeno and smoked bacon; Argentinian (Gaucho) and Toulouse sausages.
Steaks are a specialty including Tri Tip sirloin; 30 day Aged Angus Tomahawk; Belted Galloway Picanha; 50 days Aged Angus Striploin among many others. Along with traditional barbecue favourites like chicken wings and beef skewers, you'll also find spatchcock chicken; packer briskets of beef; olive fed pork shoulder; tiger prawn skewers; Tennessee babyback ribs and more. For a real wow factor, opt for lobster tail, Surf and Turf (cote de boeuf and lobster tail) or a free range suckling pig.
Put the finishing touches to your barbecue with sauces, seasonings and rubs from Angus & Oink, Hard Core Carnivore, Elbow Lane, Meat Lust, Scarlet For Your Ma Hot Sauce among other artisan brands.
The Village Butcher is run by husband-and-wife duo Michael and Sarah along with their daughter Jessica, a talented apprentice butcher, who is responsible for creating the innovative homemade products, including the highly popular gourmet sausages that The Village Butcher is known for, and is a mine of  mine of information on getting the best from your barbecue.
If you're feeding a lot of people, Jessica recommends using lesser known cuts of beef. "Skirt steak is a great option – a quick sear on a very hot barbecue each side is all it needs. Even better if you have time to marinate it in beer and fresh limes for an hour. Or if you're using flank steak, bavette or sirloin, try a simple marinade of garlic, olive oil, salt, pepper, brown sugar and ginger, " she says. For barbecue novices, Jessica has this advice: "Let your meat sit out at room temperature for about ten mins before you put it on the barbecue. Putting very cold meat on the hot grill can cause the sinews on your meat to tighten and toughen."
The Village Butcher has also recently introduced nationwide delivery, meaning customers all over Ireland can enjoy their produce. Pre-orders  are available nationwide and can be delivered to your door. Minimum order of €25 required for delivery. Dublin delivery is priced at €7.99 for delivery Tuesday, Thursday and Friday; Nationwide delivery is €13.99 available Monday to Wednesday. Free delivery on orders over €120.
To view the full product range or to place an order, visit  www.thevillagebutcher.ie
Keep up to date with the latest news by following The Village Butcher on social at @ranelaghbutcher