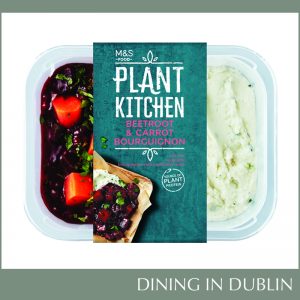 This January marks the first birthday of our Plant Kitchen range – we're celebrating by expanding the range including first EVER No Chicken Kiev!
When Plant Kitchen launched in January 2019 it took not only the vegan community by storm but the entire country! We're excited to be expanding the range and launching some showstopping new vegan-friendly products this January 
We've gone BIGGER, BETTER and BOLDER while making sure all products are developed with a 'flavour first' at their heart. We're SUPER excited about the very first No Chicken Kievs … that's right vegan Kievs filled with a creamy garlic sauce. Look out for an incredibly clever No Tuna & Sweetcorn Sandwich – which we reckon is taster than its non-vegan counterpart… you try!
 Also launching are deliciously crispy No Duck Spring Rolls filled with shredded soya protein with hoisin sauce, and an amazing No Smoked Salmon Potato Salad
April Preston, Director of Product Development, M&S: "Veganism is a trend that we are absolutely loving at M&S, and as our customers continue to experiment and adopt more flexitarian diets, we too are having fun creating new products to fit within this. Following the successful launch of our amazing Plant Kitchen range last year, we've turned the heat up and have challenged ourselves to create some of the best vegan-friendly products on the high street, focusing particularly on turning well-loved products into plant-based versions and celebrating vegetables in all their forms!"
Zoe West, Corporate Outreach Manager – Veganuary is creating a new wave of consumers with strong ethics and a big appetite! This a real opportunity for businesses to improve and expand their vegan offerings for the growing climate-conscious audience. We're delighted that Marks and Spencer's has risen to this challenge – helping people to live more lightly on the earth while still eating food they love – we can't wait to try the new Plant Kitchen products! 
Products available in stores from the 2nd January