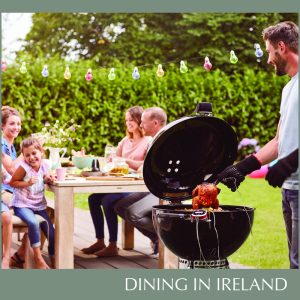 For Father's that are barbecue enthusiasts, meat-lovers or that simply enjoy a delicious outdoor feast, then AVOCA and Weber Barbecues have just the thing to celebrate this Father's Day and the arrival of the summer season.
Best-in-class barbecue brand, Weber have teamed up with Irish retailer, AVOCA to host a series of outdoor cookery demonstrations across the summer months. Weber's team of Grill Masters will be visiting some of AVOCA's most scenic locations to demo the latest must-try trends and delicious barbecued food.
The pop-up will be serving up barbecued food including ribeye steaks, rotisserie chicken and planked salmon, and for vegetarians, a delicious tandoori cauliflower with herb chutney will also be on the menu. Visitors will also be able to purchase freshly barbecued food from AVOCA's team of chefs, so why not make it a family day out and enjoy a picnic on Mount Usher's stunning grounds.
The first outdoor pop up will be taking place at AVOCA Mount Usher Gardens across Father's Day weekend, Saturday 19th and Sunday 20th June from approx. 11am – 3pm, with the pop up visiting Powerscourt and Kilmacanogue in July. For more information on the outdoor series, visit www.avoca.com
In addition to this, an AVOCA butchers pack, €54.95 designed for a family barbecue feast will be available across all stores from this week. Give Dad the gift of grilling, with everything from sirloin burgers, steak burgers, lamb kofta skewers, wild chicken wings, sweet and sticky chicken pieces, sausages and smoky BBQ ribs. This is sure to be a real treat for his much-deserved weekend feast.
The butchers pack also includes recipe cards incorporating the contents of the kit and a unique Weber QR code, where customers can avail of an exclusive 10% discount off all Weber products on www.weber.com. The butcher pack also comes in an AVOCA reusable cooler bag – perfect for future picnics!